Return To Main Page
See all our previous broadcasts
The Top 5 percent take-in scientific and engineering advancements of Mustang Banding.
Get Updates on P-51CUE, The C series Ultra Endurance.
At Husker Harvest Days. Grand Island, Nebraska, Sept. 10, 11, 12.
Get the correct information and move $150 per acre more net income to the bottom line with less risk.
We start promptly and end promptly. You will have the most advanced presentations in nutrient efficiency.
TAPPKTS and TAPPS Seminar on Wednesday evening at the Fairfield Marriot at Fort Kearny, Nebraska from 5 to 7 PM with TKI, KTS® and Sat Shot® sponsorship and Exactrix® personnel.
Nutrient Executives and Scientists will speak with Presidential Presentations by Lanny Faleide and Guy Swanson, A light meal and drinks served. , Exactrix owners and Patrons are invited. Be prompt as we start at 5 pm and close at 7 pm.
The meeting is fully supported with nutrient scientists and university researchers from around the USA.
Please call 509 995 1879 or 509 535 9925 to confirm your seat at the Fairfield Marriot.
Banding to 7 to 8 inch depths at 10 to 12 mph for $1.25 cents per acre. Yielder Banding Blades reduce banding costs to the rock bottom at highest possible speeds.
$60 per acre more net income in dryland and $150 per acre net income with the help of Exactrix, Sat Shot and Tessenderlo Kerley .
Banding TAPPS and TAPPKTS plus micros and Fulvic Acid brings all crops into full Rotational Band Loading.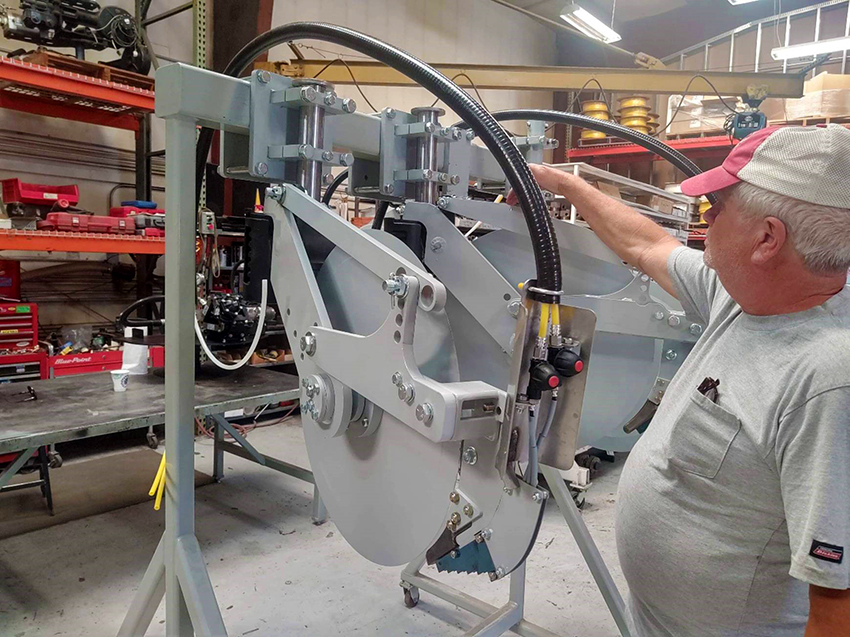 1
2020 Introduction at Husker Harvest Days, Sept. 10, 11, 12.
New TC Tool Bars. Engines 2KC Series 2 and Series 2 TAPPS formulators.
Exactrix Engineers have been working hard at banding deep and running fast in all conditions.
P-51CUE, Clint's hand is on a P-51C. 7 x 7 clamping on a 4 x 4 frame shown.

Tool Bar Clamp Improvement. Shorter shaft.

Heavy Tool Holder wit cast spacer. Improved bolting,

Heavy Upper Link with replaceable hard bearing.

Horizontal Arm from the Spring to Hub is 120% heavier to carry the Gyro. Metal Face seal at Cross shaft.

Heavy Hub Housing with spacers.

Hubs, Timken's, Cat Duo Cone Seals run with Corn Head Grease, Duo Cone seals assure long life.

Operational before blade replacement of 30,000 acres on a 60 foot tool bar.

Six different blade edging designs and diameters.

Hubs and Bearings are good to 60,000 acres….but not yet confirmed and could be higher.
BT Corn Shield for Front Spring clean out port. Not shown.

Injector Foot with Replaceable bit and press-in TIO for quick change.

Blue Tempered Spring Steel Side Guards, Replaceable on the opener.,

Six Shooter for up to six product locations.

Three product delivery shown.

Stainless Steel shield changed for easy access. 30 degree angle.

Blade diameter from 22 to 26.5 and able to operate to 18 inch diameter Gyro Carrier.

Gyro is 4 inches wide and weighs 95 lbs.

Longer wearing Replaceable Bit …built at Lethbridge Iron Works.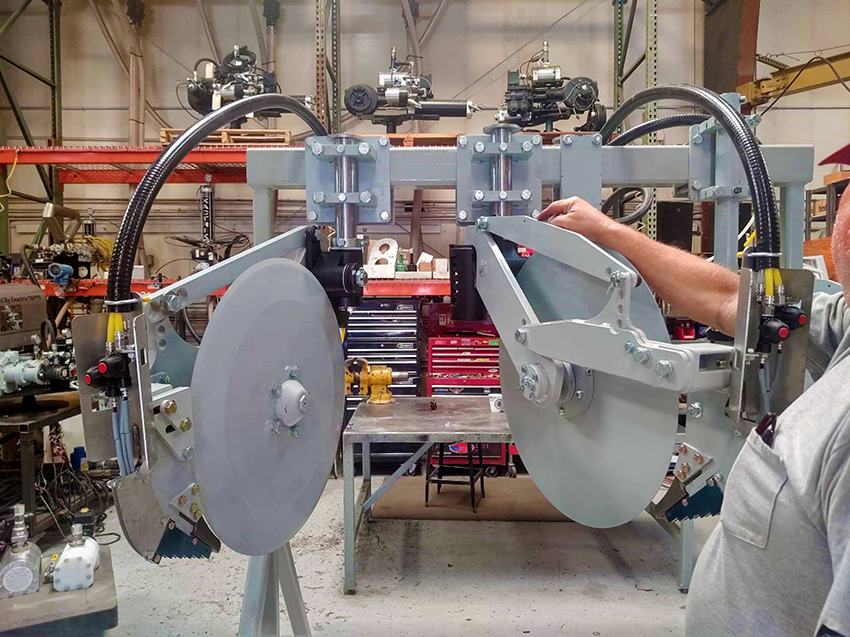 2
P-51CUE with six shooter, No Gyro installed. ½ x 26 blade shown.
P-51C with Six Shooter, No Gyro Installed, 3/8 x 25 inch blade shown.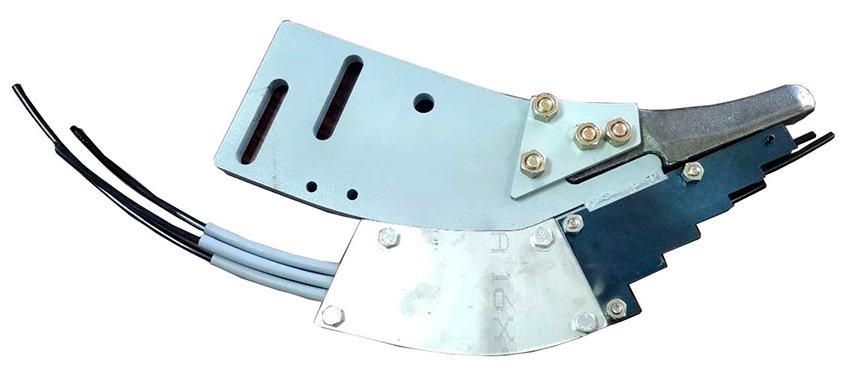 3
Six Shooters….provide powerful endurance and lots of options for Feralene, KTS, Fulvic Acid.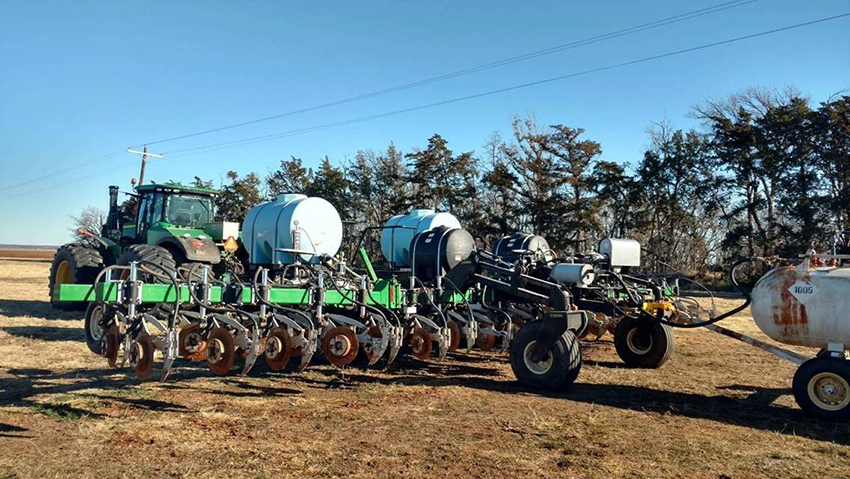 4
TC tool bar with 3 section design, covers .808 acres per minute at 10 mph. The 4515 at 20,000 acres in 6 months. Munday Texas. Stocker Feeder operation.
Our most advanced producer in Texas reports great increases in profitability in the 2018/2019 production year.
Discoveries made in dual application of N and P
using Yielder Drills and Aqua Ammonia.
TAPPS/TAPPKTS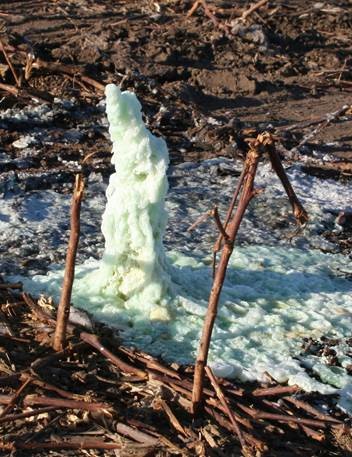 5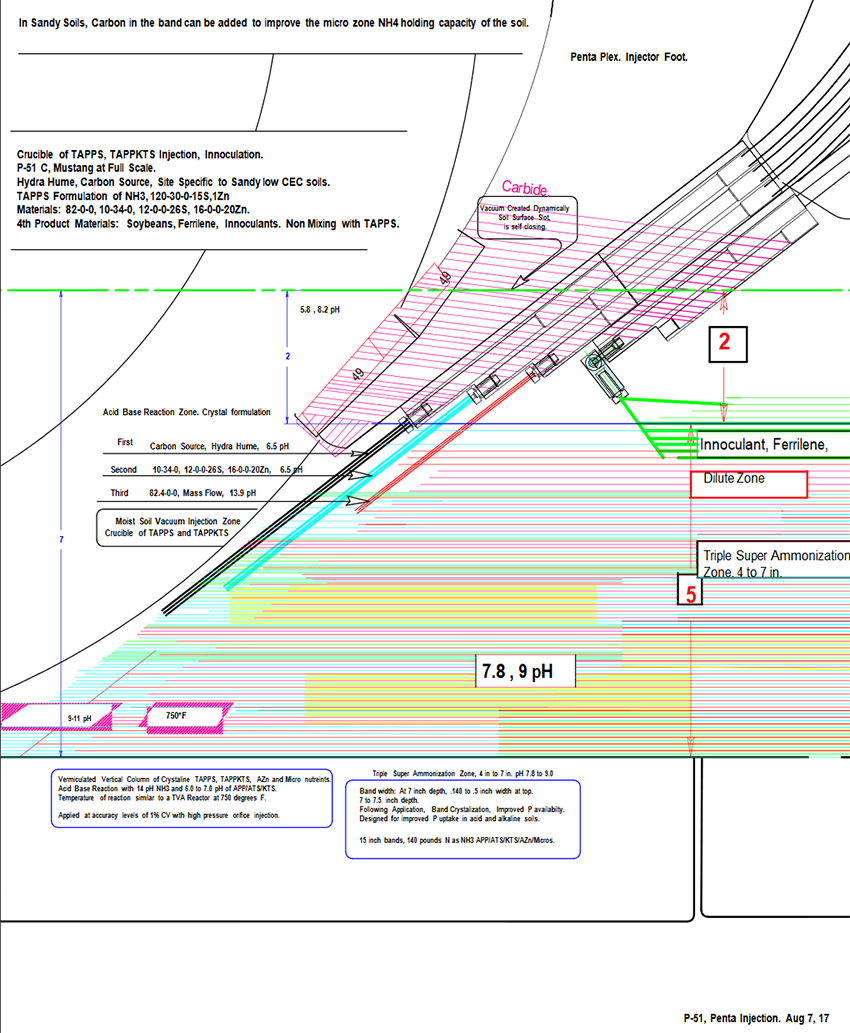 6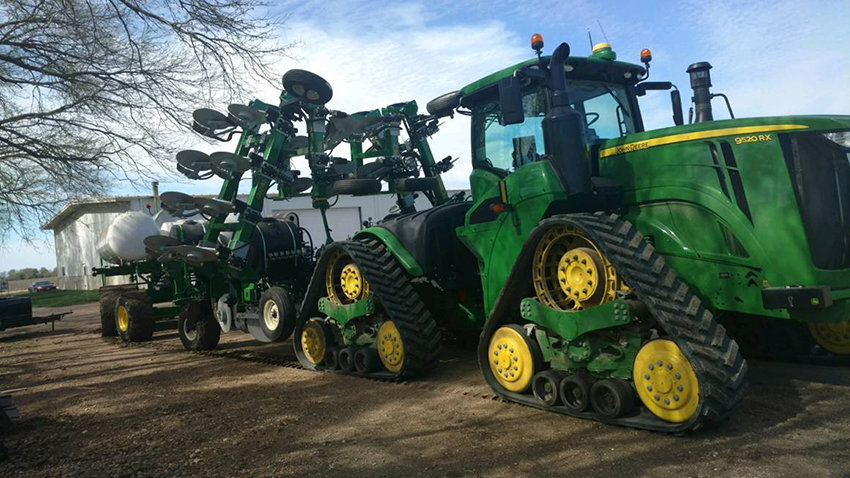 7
Binary Banding 22.5/7.5, 5 section, 4515 Exactrix Mustang Positive Down pressure TC Tool Bar and the Yielder 2900 Steering Track Cart goes to work at GSF, The NC+ Breeder of Channel Seed Corn. Operating with a Deere 9520 Row Crop Quad at Shelton, NE, May 16, 2019. Difficult and wet conditions prove that tracks really work in No-till.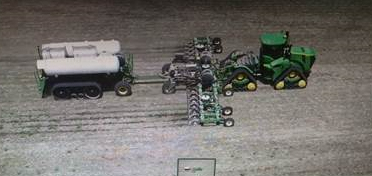 8
Click Here for Field Operation.
Click here for full video https://vimeo.com/bandbvideo/review/337811713/33b051a4ab .

Check out Binary Banding the massive but delicate process of applying nutrients at 1% CV in deep bands.
Mustang Exactrix Banding Nutrients at 9.5 mph in Binary Banding Mode of 22.5 x 7.5, splitting soybean and corn rows in No-till.
Allowing the 60 foot 24/30 corn planter to plant directly on top of the Exactrix TAPPKTS Band the same day by banding to 7 to 8 inch depths.
Here is why nutrients are combined with root pattern geometry to drive yields up another notch. Achieving record field wide averages using VRT application at 1% CV. The machine and the expert management lifts yield expectations to the 300 bushel per acre range in commercial corn production.
Nominal increases over askew Exactrix Mustang will average between 5 and 10% above previous yield levels in the 270 bushel to 290 bushel per acre range for commercial corn. Micro nutrients and efficient utilization of KTS is possible with a third product 2KR Blender with TAPPKTS bands directly under and along-side each corn row.
Seed corn production for Channel dealers using high quality inputs of Exactrix TAPPKTS with Micros. The Exactrix Binary Bands brings out the best in seed quality with power packing of nutrients into the seed with balance nutrition in tough weather conditions.
Power Packing of Seed is a well-established practice utilized in Washington State by the Crop Improvement Association for raising high quality seed on nutrient packed potato soils.