Feedlots moving to wheat....
How to seed winter wheat, No-till....
Wheat prices to top $10 a bushel, says Goldman
Agrimoney.com ...More Info
---
Another track carrier has been sold...
to Stephen Petluk of Nampa Alberta.

Stephen will banding with P-51C openers on 15 inch centers and pulling a 15 inch Monosem Planter directly behind the Yielder 60120 Track Carrier



Yielder 60120 Track Carrier In Kansas
Guy Swanson Explains The Yielder 60120
---
Attention Mustang and Potential Mustang Owners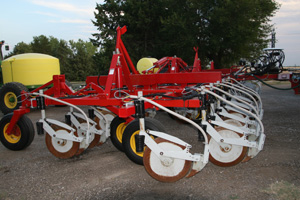 P51 Mustang Product Bulletin 912 info HERE
---
Humic Acid Test Plot Report
Produces 4% More Net Dollars With
TAPPS Formulators...It Is True!
Website Link HERE

Good News.

Kevin Medow. York/Seward, Nebraska. 8 year Exactrix Owner...advanced producer... and always turning in test plots.

His machinery in true No-till wide bed Ridge Till designed at 36 inch....soybean and corn under pivots...and right next to the DeKalb and Pioneer Seed Plants. A 1 billion dollar problem just down the road.

No-till Twin Row 18 inch rows on 36 inch beds with his twin row Monosem Planter.

No-till Exactrix Single Disc Tool bar applying 18 inch bands.

Exactrix funded plot harvested with a weigh wagon. Replicated 3 times in large field size plots.

Not Randomized...but replicated 3 times on large center pivot fields and compared to standard plot with TAPPS with no Hydra Hume.

Highly uniform soils so randomizing would probably produce the same results.

Harvested the Exactrix Test Plots for Hydra Hume about Oct. 1, 12

Kevin has been producing very good yields this year...some fields in the 240 to 260 bushel per acre range with Twin Row Monosem avg. 18 inch and Pioneer Varieties.

This plot was done with Monosem with his second planter arrangement which is a single row 36 inch Monosem. The variety was a lower yielding variety.

Here are the Yields with some Green Snap problems during the growing season.


Hydra Hume, 2 gallons mixed with Exactrix TAPPS, 200.4 bushel/A.

Hydra Hume Info HERE

Exactrix TAPPS only, 192.2. bushel/A.

8.2 bushel with $14.00 of Hydra Hume...$7.50 corn $61.50....makes about $47.00 more per acre.

Across the board...all Exactrix owners are moving ahead with the Hydra Hume program from Helena.

Carbon in the TAPPS and TAPPKTS band is working very well.

More data to come.
---
Exactrix Help Is A Phone Call Away
Answers to What, Where and How!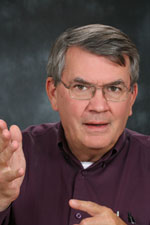 Guy Swanson
No-Tillage expert, Engineer
Exactrix Global Systems
509.995.1879

CALL US - 509 254 6854


YOU CAN OWN ONE SOONER THAN YOU THINK
MAKE THAT CALL NOW!

Visit Our Website :
WWW.EXACTRIX.COM
Exactrix Global Systems LLC
4501 East Trent Ave.
Spokane, WA 99212
(509) 254 6854 .(509) .
E-Mail exactrix@exactrix.com
Major Weather Events Fall 2012 on the Great Plains.

Big Rainstorm at Hugoton, KS... 2 inches..came on Friday, September 28th... Elkhart, KS got 4 inches

Seeding winter wheat in the Fog with his 1990 on Saturday morning as reported by Joel McClure....running Wireless reporting on his 2KC and 2KM Mass Flow systems.

Joel and Troy Cohen like the Exactrix/ Mass Meter/Droid wireless reporting right from the Mass Meters....the

application and process information goes to his Smartphone and on to the office....This is really good for custom seeding. He can report directly to the customers computer daily. Plus, he can stay on top of quality problems.

Joel McClure shut down corn harvest for a couple of days due to the storm.

The new McClure 1990 is custom seeding for customers that Joel has had for some time.....some pivots are

for grazing. Weight gain is being offered at .80 cents per lb., typical is .35 cents.

Seeding conditions are marginal to favorable at Electra, Texas. Cattle grazing is in the plan.

Colby KS is dry, ND is dry. The Panhandle is dry in NE.

Lott and McGregor Texas are wet...to very wet. Seeding date is a ways off...TAPPS and TAPPKTS working well at Lott/Temple, Texas...Fort Hood.

Crawford Texas is just down the road and next to the largest Army Base in the World, Fort Hood.

Plan on a success....and that is what you will get...

But it will not be long before wheat will be in the cellar....and you must get all your efficiency maximized in the good times.
---
Winter Wheat Seedings, Plan For A Success.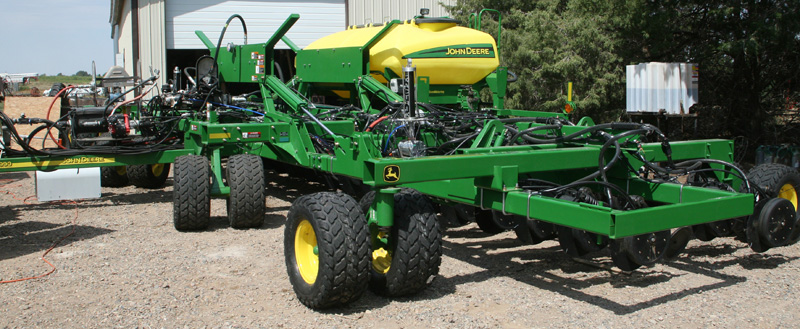 Deere 1990 Setup - 10 inch Exactrix Wing Injection, Hugoton, KS
Do your very best job of seeding and banding SWWW, Soft White Winter Wheat and HRWW, Hard Red Winter Wheat.

Winter Wheat is King again for the first time in 30 years....and here is a report from the Great Plains Reporter, the King of Winter Wheat.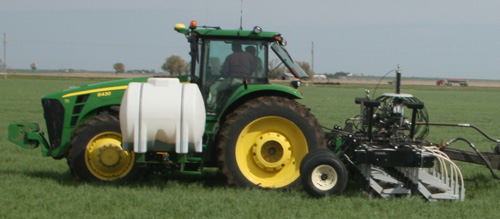 Early Spring Banding of Winter Wheat / Mustang P51C Swiveling Openers at 12.5 mph.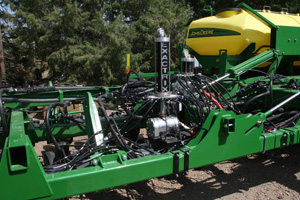 Joel McClure, Hugoton, KS with his new 1990
Yielder Drills have produced dryland average yields on a field wide basis as high as 156 bushels per acre at Waitsburg, Wa in 1992.

Great Plains producers can budget $10 per bushel for winter wheat....and PNW producers can budget $11.50

per bushel for both SWWW and HRWW.

Winter Barley can even be considered on Winter Wheat Stubble in the PNW. This depends on the Clearfield rotation.

Use the highest quality Winter Wheat seed....Certified or Registered seed that has been raised and inspected on a potato rotation soil.

Seed treatments are required.

Seeding date should be optimized.

A seeding of depth of 2.5 inches is proven just about right with the single disc drills such as the 1890, the

1990 and the Case SDX.

Do not dust in winter wheat seedings at a shallow depth....seed in the buffered zone of 2 inch to 2.5 inch.

Later winter wheat seedings require more seed typically or on the average....about 10 pounds per week after

the optimum date.

Seeding rates are typically too high for winter wheat if the drill is in top shape. A bushel and a peck is a great place to start...but seed size and population should be considered.

Certain varieties of high yielding Hard Red Winter wheat have a small seed size.

Dry seedings work....and require more seed.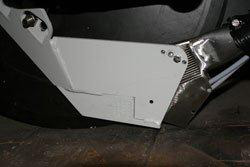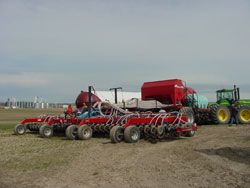 SDX Seeding Diffuser, TAPPS Bander Yielder SDX set up Exactrix TAPPS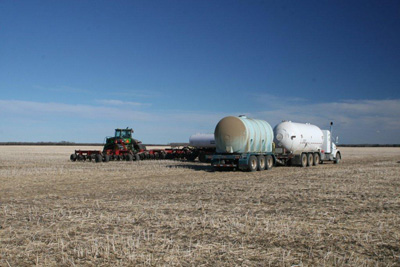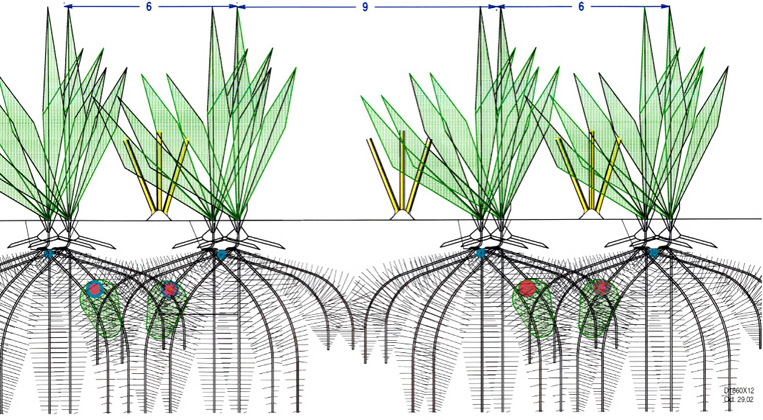 www.exactrix.com/dewi.htm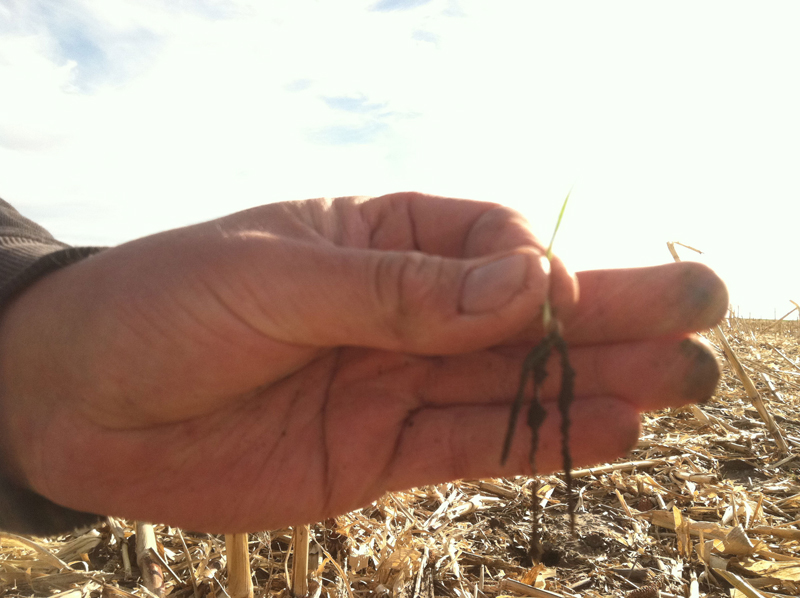 Typically 10 inch single disc drills do a better seeding job than 7.5 inch single disc drills in winter wheat.

Lower seeding rates on shallow soils that cannot store moisture are very effective in producing higher yields at lower seed rates.

Seed rates and application rates should be adjusted to meet the potential of the soil.

Winter Wheat yields can be increased 20% to 30% under pivots with an Exactrix equipped, TAPPS or

TAPPKTS singledisc tool bar. Banding TAPPKTS plus Humic Acid into winter wheat in late November or late

February will deliver more high quality bushels of winter wheat.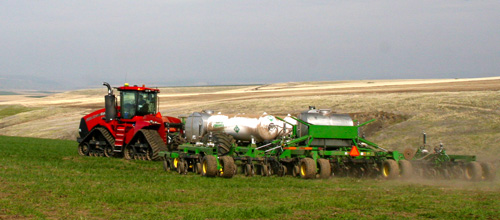 Mader Farms - Side Dressing Wheat - Lewiston, ID
Champions Of Winter Wheat Go To www.exactrix.com/iww.htm

February/March spring banding can be utilized to break dormancy early.

Early spring banding can also stimulate wheat by breaking of mycelium or Rhizoc or Fusarium/Snow Mold.

The tool should be on a spacing of 10 inch, 12 inch, or 15 inch.

A band spacing of 10 inches may be optimum for soils that respond to TAPPS and TAPPKTS...or calcareous, high pH soils or acid soils or soils with highly variable OM.

P-51C Mustang Tool Bars band at high speed...12.5 mph....and do it with very low soil disturbance.( More info HERE)

Deere 1890, 1990 and Case SDX are also good choices....10 inch wing injection is just fine for Winter Wheat.

Winter kill of winter wheat seldom occurs when seeding into standing stubble due to the snow trap.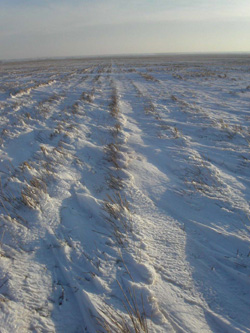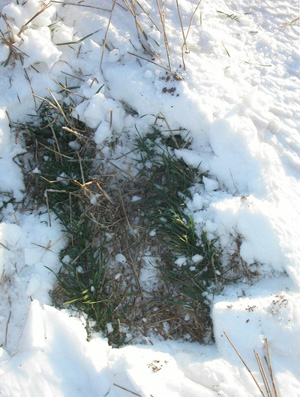 The Power Of Snow Trap & Uniform Distribution Of Snow - Winter Wheat At Quinter, KS, Grows Under The Snow

Standing stubble is your best friend on the land. When seeding into standing stubble with single disc drills such as the1890 or 1990 or Case SDX, seed at 2.5 inch depth into the buffered zone .

Always establish a winter wheat stand with NPKS plus Humic Acid wing injected....APP/ATS/ can be combined with NH3 in wing injection with zonal seminal root access and zonal safety with phytoxic materials.

Drills that pack on top of the seed row should be avoided when seeding at 2.5 inch depth due to poor emergence.

Single Disc drills do not pack on top of the row.

A No-tillage exclusive....Standing stubble allows a variety selection that breaks dormancy early....and has higher yield potential with less winter hardiness bred into the variety.

Always seed several varieties. Select varieties that match the condition of the field, match the soil type or meet the needs of the landscape.

Always plan for an average crop with no more than 12% of the gross return invested into nutrients for the growing crop.

If the winter weather delivers good soil moisture under No-till conditions and it looks like the weather has turned in favor of a big crop, producers should adjust the yield goal and crop production economics. Exactrix owners can band more TAPPS or TAPPKTS nutrients into growing winter wheat, but producers should spend no more than 12% or the estimated gross income based on the improved yield goal.

Spring weather is still a big factor with winter wheat. May/June freezing weather at the wheat bloom stage can produce a good hay crop.
---
Either buy stock in Agrium or build your own plant in a cooperative effort.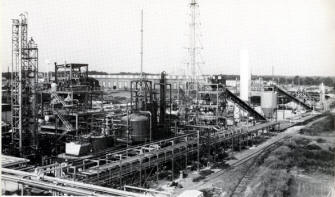 Coffeeville, KS, TVA
Getting Ready for the next cycle.

If the Coops like Cenex Harvest States have their way....Ammonia will be back to a commodity....based on $2.00 natural gas .

Maybe another NH3 plant at 1.3 billion dollars will be set up at Butte, Montana serving Southern Idaho, PNW and the Golden Triangle. Then you can run Rocky Mountain Doubles and haul directly to all three geographies...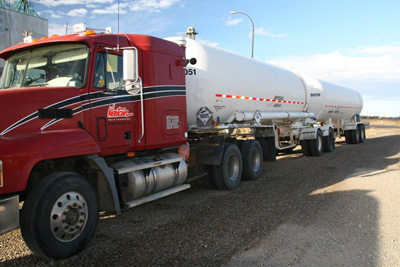 Alberta Rocky Mountain Doubles
Too much natural gas is stranded across the Great Plains. Since 40% is imported into the US why not build it in theUS with $2.00 to $2.50 per ton natural gas....or natural gas cost is about $80 per ton NH3....

the gas cost is good news and the electricity cost can come from a hydro plant....at $15 per ton electricity. NH3 at $200 per ton is probable on the west coast.

Thanks to the EPA and government policies of the past, producers are paying $1,200 per ton for NH3 in the PNW this fall. Only two suppliers provide NH3, both of which have source plants in Alberta. Kenai, Alaska no longer supplies NH3....but maybe it will again if the State of Alaska gets involved.

Alberta, British Columbia, Montana, Idaho and Washington Wheat Growers need to team up with CHS and get a fair and level supplier.

CHS may be the key supplier with the muscle to go up against Agrium in a fair and competitive play.

It all starts with the grower.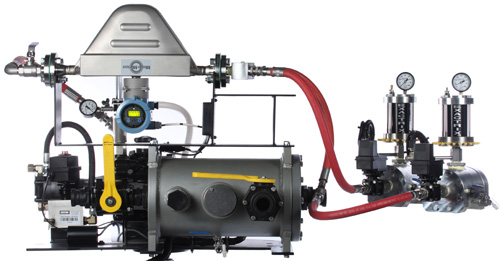 The Exactrix 2KM Mass Meter
---
See the full line of Exactrix products at www.exactrix.com

For immediate assistance call
Spokane (509) 254 6854
Toll Free .