Return To Main Page
See all our previous broadcasts
Is Anhydrous Ammonia a Good Deal at $242 Per ton?
A Kansas Success Story.
Seven Years of Success, Irrigated, Double Crop, Dryland 120 bushel Winter Wheat.
Average TAPPS+Zn Band with Spacing of 2.5 inches at depths to 6 inches.
At 65,000 acres of Exactrix Mustang P51C, 6 in. depth, TAPPS+Zn vermiculted banding.
At 20,000 acres of 9 inch deep banding TAPPS Strip Till, Deere 2510 S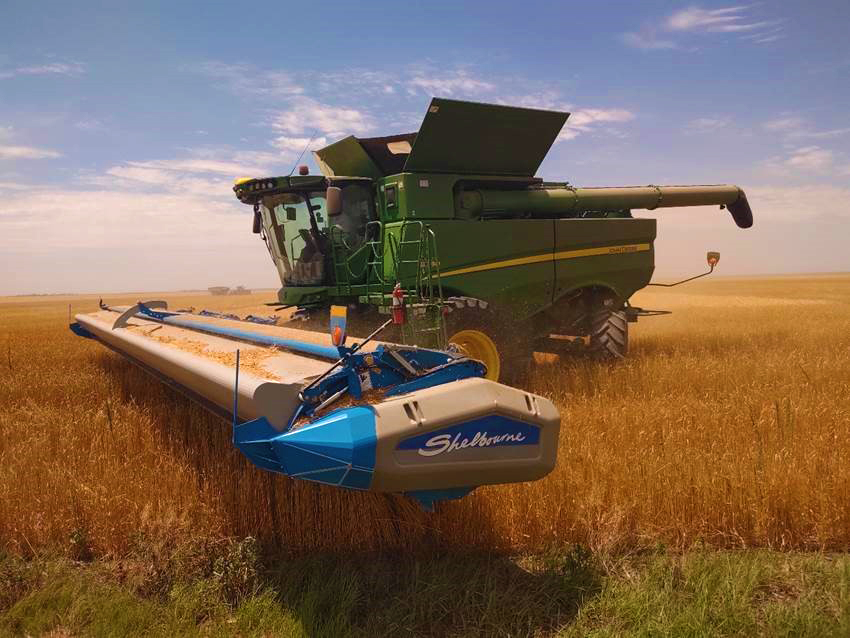 1
Cory Weatherred, Triple G, Deerfield, KS, Dryland HWW wheat, Joe variety by KSU Hays, No-tillage of far western Kansas fields provided TAPPS bands of 5 previous crops, Casey Sower in charge of Exactrix Mustang Tool Bar banding.
The 2019 winter wheat crop came off the 7,000 acres in record time fighting tornados and hail all the way to the bin. At the last 90% of the acres the race was won, harvest production was reduced to two combines. At the end with 10% acres left to go the two extra combines and stripper headers were sold back into the harvest machinery market to allow other Kansas farmers access to the stripper machines.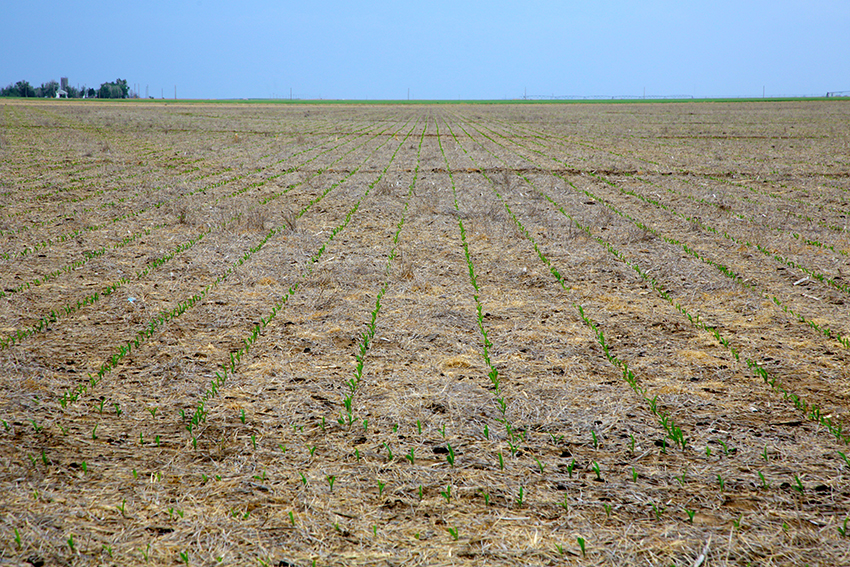 7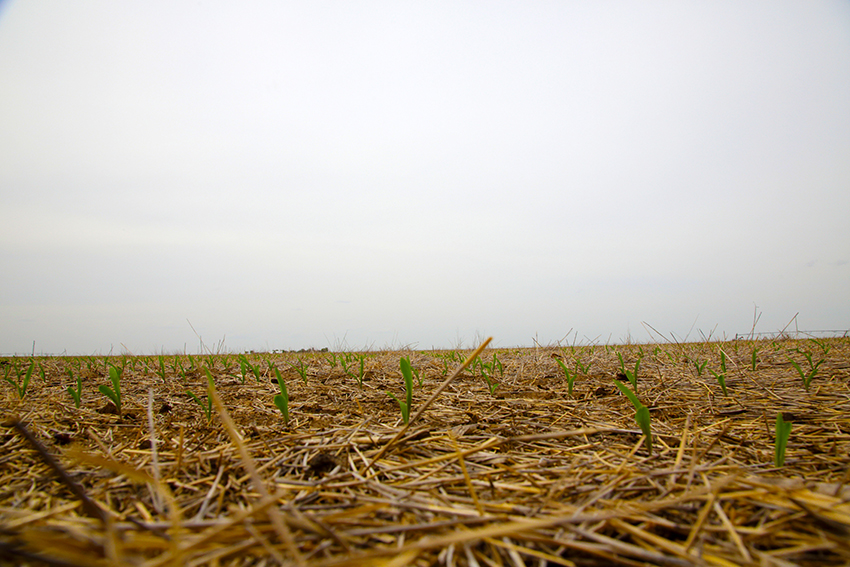 8
Stripper headers and No-Till management with exclusive Exactrix high pressure vermiculation of NH3, Ammonium Poly Phosphate and Thio-sul® produced high yields. The 1% Coefficient of Variation with TAPPS plus zinc banded deep to 6 inches produced a record nutrient performance and lowest cost per bushel produced in No-till. After 6 years average band spacing was 2.5 inches. About 6% to 8% of the gross income per acre was invested into nutrients over 6 years.
The typical average for the area in a non-Exactrix system is an 18% nutrient investment to 25% with center pivot application of Nitrogen. This is a percentage of gross income to grow less marketable bushels.
This results in $150 more net income in irrigated production and up to $540 per acre more net income in double crop. Dryland production can vary as noted from $60 per acre more net income and up to 2.5 times more bushels produced.
The low rate applications as determined in STEEP test plots confirm that nutrient cost is about 1/3 to ½ of neighboring farms.
There is typically a 12% increase in net income year after year over other types of farming and fertilization.
Critical management points are :
No-tillage with residue management, stripper headers for maximum moisture infiltration

Rotational Band Loading for present and future crops using 15 inch band centers.

Ideal soil pH at 7.0 to 8.0 range for biological life.

Banding deep to 6 inches to 9 inches for maximum root system uptake.

Avoiding compaction and meeting standards of 2.5 ton per axle/8 psi tracked vehicles.
Exactrix Technical Advancement in No-tillage Double Cropping with Mustangs and TAPPS.
Southwestern Kansas Producers Make Better Margins And Conserve.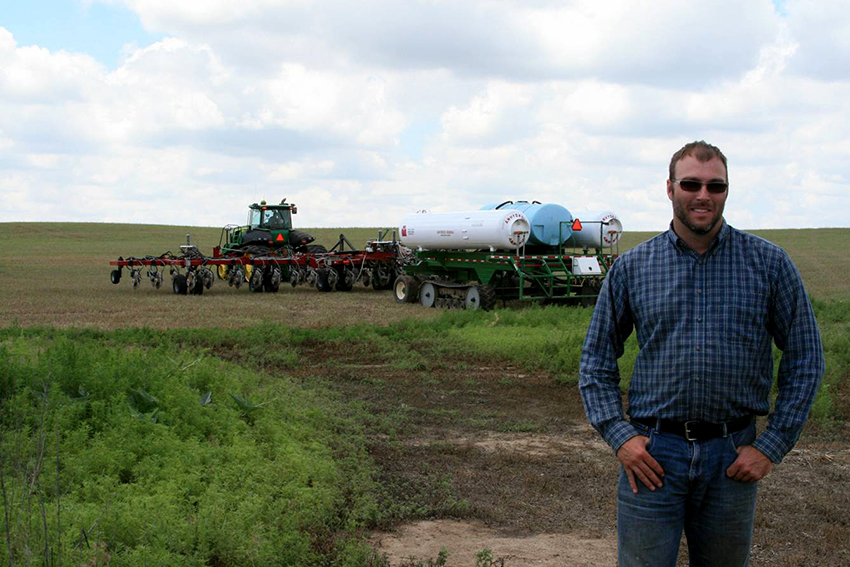 9
In the field June 17, 2015 with Brian Graham of Triple G Partners, Garden City/Deerfield, KS.
Irrigated forage production is in step with a No-tillage treatment of the land using Rotational Band Loading for the second crop.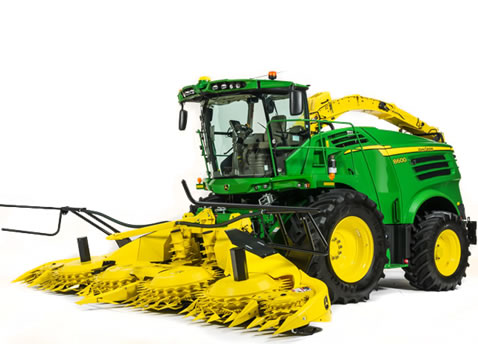 A five to seven day timeline to a second crop.
A quick turnaround into the second crop is required. The green chop Triticale is typically directed to the large dairy farms in the area.
The sandy soil pivot and wells have low water capability at 400 to 500 gpm on the Ogallala Aquifer.
The tractor and cart tracks reduce compaction and have good travel speeds at maximum tractor efficiency and horsepower.
Full conservation of inputs producing better net margins than 300 bushel per acre, irrigated corn.
Nutrient cost is substantially reduced and improved margins result in a second forage crop using Exactrix Technology.

10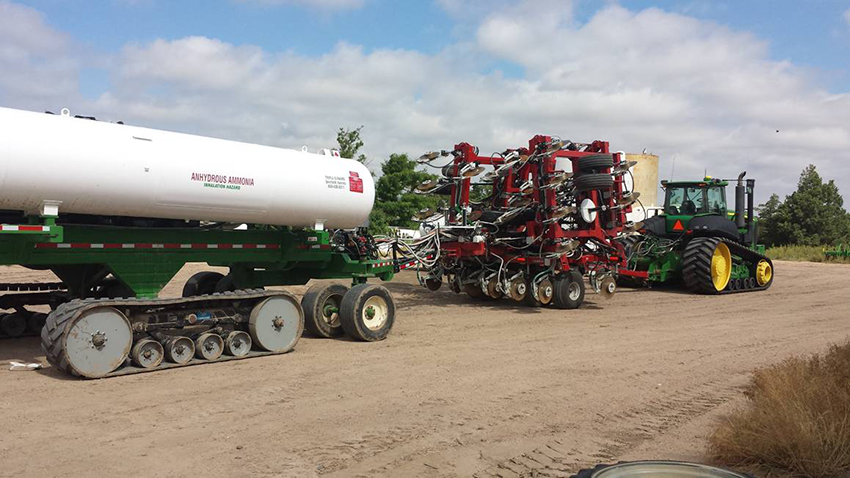 13
Basic Specifications:
Total Weight Loaded: 150,000 lbs.
Tractor: Deere 9630T. 530 hp up to 28 gallons per hour diesel fuel producing about ½ gallon per acre fuel consumption at 8.1 mph. 2019 new tractor, Deere Quad, 9620RX.
Tool Bar: Case 940 at 61.25 feet in 7 section fold and 5 section flex. About 18 feet wide in transport and 15 feet in overall height.
Openers: Rated at 10 mph at depths to 7 inches, swiveling, spring loaded, Exactrix Mustang P-51C, ½ inch thick double edge with 25 inch diameter, 49 total on 15 inch centers.
Engines: Exactrix 2KC, Series 3 Weigh Master (50 gpm at .002 repeatability), Exactrix 2KM, Weigh Master,(40 gpm with Bulk Density Readout) Deere GS-3 control, Electronic Gauge, Panel, Blackbird Tachometer, 4 section control.
Track Cart: Twin, 2,000 gallon CRN, 265 PSI rated, heat treated, Ammonia Tanks, Single 1,600 Poly Tank, Twin 150 gallon Micro Nutrient tanks, 25 inch x 126 inch Camoplast Tracks, Deere Air seeder bolster double reinforced with steel belted radial tires.
Filling: A 2019 Countryside Transport, 10,200 gallon DOT Transport rated 265 psi with 4 inch sliding vane pump, at 20 to 25 minutes to fill to 85% 3,400 gallons, Liquid trailer tanks for filling is a towed trailer, 1600 gallons, 3 inch pump.
Second Tool: The Triple G Track Trailer also mates to an Exactrix dual section manifold set up as a Deere 2510 S strip till tool bar, 16 row at 40 feet in about 2.5 hours.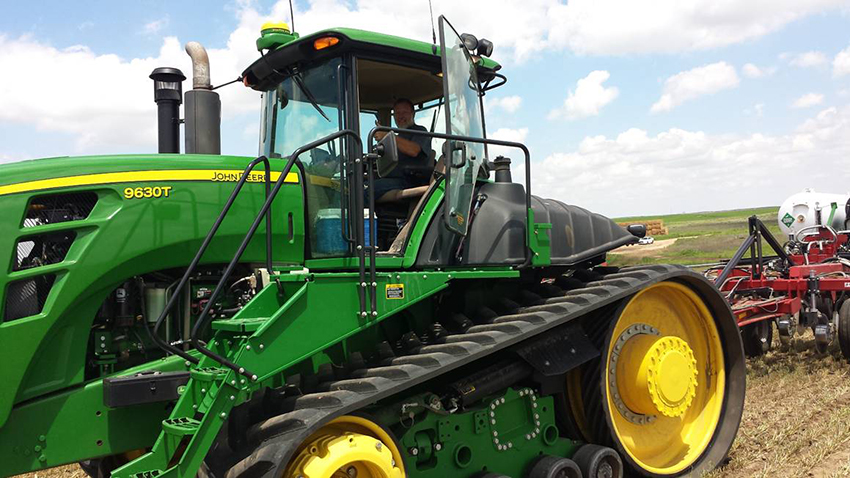 14
Double Cropping Technology…moving fast.
Liquid streaming flows with balanced delivery at high pressures assure high 1% CV uniform application of crystalline TAPPS.
A high temperature reaction which improves the crop root access to soil placed nutrients…utilized by present and future crops.
An ideal case for using No-till in high pH or calcareous soils and acid soils.
TAPPS is unique to Exactrix using Mass Meters and high quality delivery systems to assure reliable performance.
Typically Exactrix Systems apply 200% more crop available P and 166% more crop available N with high pressure liquid streaming flows.
Exactrix systems apply nutrients at .5 to .7 of the University recommendation. All tested and time proven by scientists and Exactrix owners throughout North America.
Exactrix is driven by producers desiring more net margin with improved efficiency of nutrients applied.
Exactrix systems are sold only based on applying more crop available nutrients. Exactrix systems can easily over-apply fertilizer if old fertilizer rates are applied.
Yields are only improved at Exactrix application rates. Warning do not over-apply nutrients as yields can be reduced.
Superior electronic controls from highest quality sensors and harnesses. Deere GS-3 controllers have been superior.
Lowest possible soil disturbance results in a high quality seed bed.
The loss of critical soil moisture at seeding is greatly reduced. No-tillage designs bring gigantic returns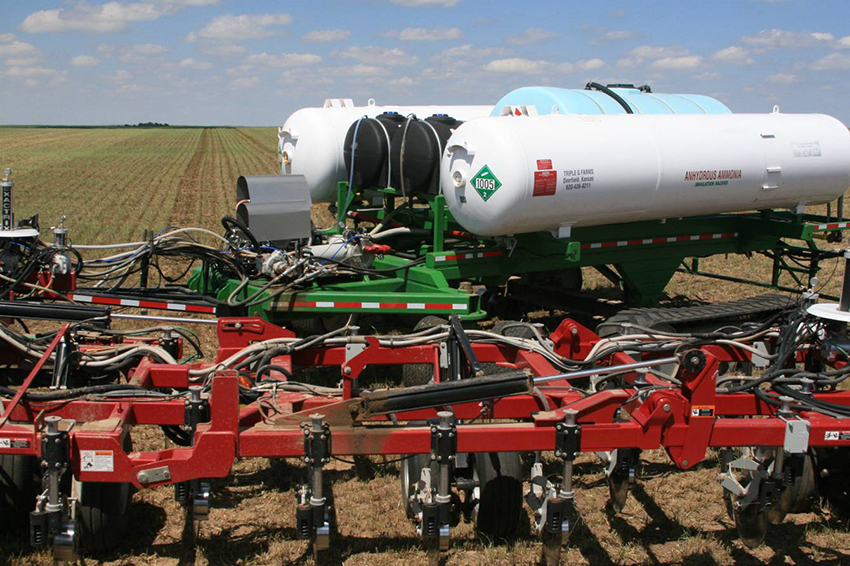 21
Two Crops.
Green chop Triticale residue is banded and seeded within 5 days. The Sorghum Sudan blend is headed for the September green chop harvest with all the nutrients required to raise a good crop and no nutrients applied with the pivot.
Exactrix TAPPS and Mustang high speed low soil disturbance openers are time proven to produce top results. Banded with a Mustang tool bar to a 6 inch depth at 8.1 mph at 1 acre per minute. The diesel engine is firing 28 gallons per hour with a Deere 9630T.
Improvements In Drought Stress Tolerance With Exactrix… since all pivots are under stress in August with 110 degree heat. The bands must be deep to improve moisture and nutrient uptake. This is a technique of the West. Banding deep up to 9 inches always makes a big difference.
Seed Row and surface applied fertilizer is not a good plan with 30 mph winds at 3,500 feet with a 100*F day. This is another reason why dryland No-till yields well. Corn Belt farmers can take a big lesson from Western Producers.. The often have a management problem in the Corn Belt when it gets dry.
Tremendous production advantages occur with pivots when bands are 6 inches in depth creating deeper root colonies in more consistent moisture. Deeper bands mean better crops under drought pressure, dryland or irrigated production.
Deep banding with ½ inch thick x 25 inch diameter Mustang P-51C openers at depths up to 7 inches. If conditions allow the tool bar will band at speeds to 10 mph applying TAPPS and TAPPKTS.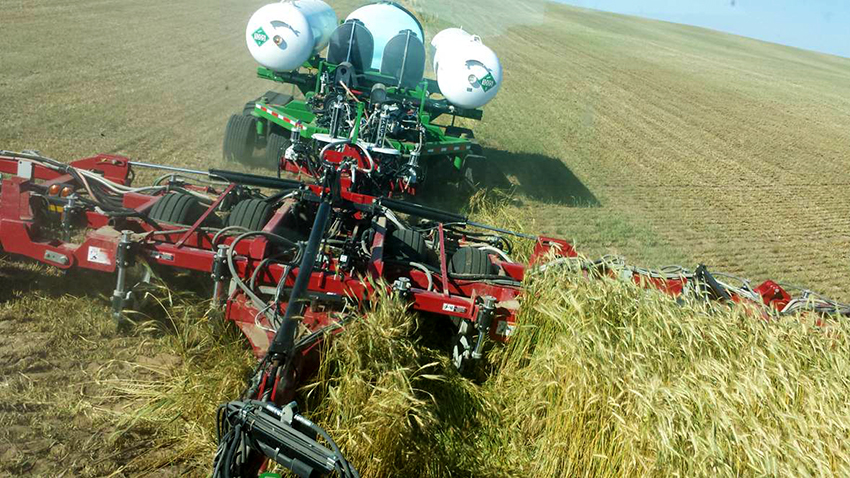 22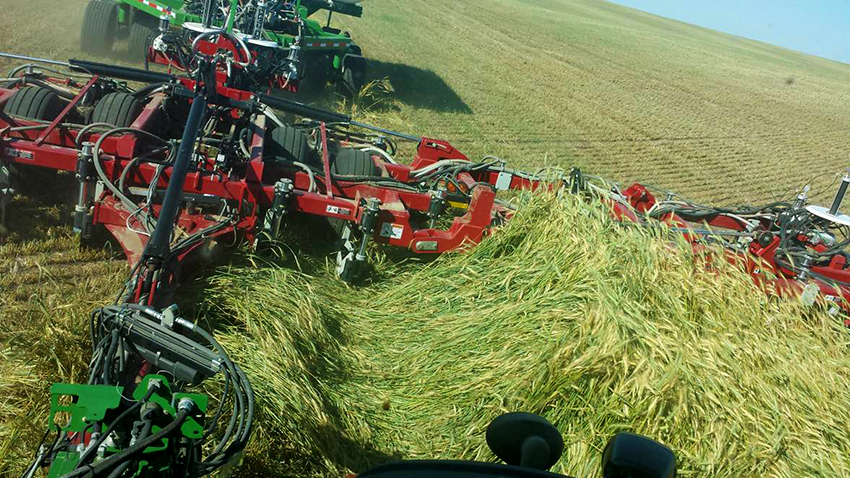 23
Mustang swiveling single disc banding under the pivot towers where the forage harvester did not go. This machine has good residue clearance in a triple rank.
The 61.25 foot tool bar with 49 Mustang openers goes through the Triticale without plugging for the full length of the pivot.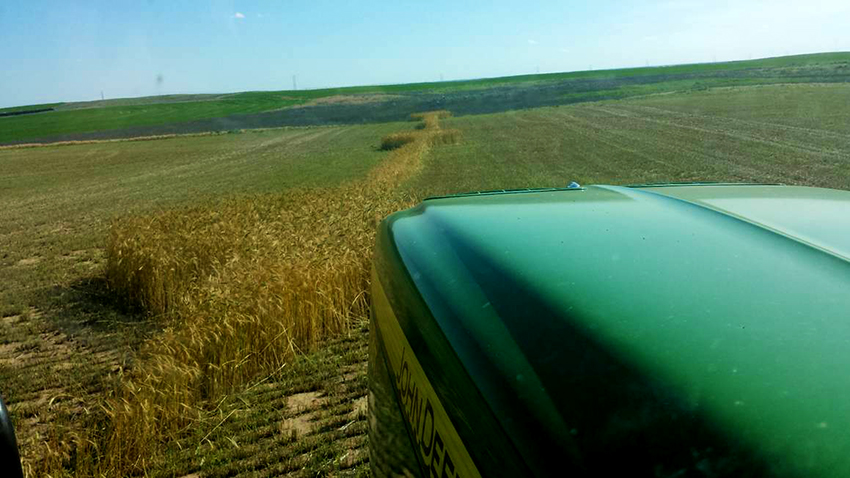 24
Raising The Second Crop, Sudan and Sorghum blend.
That is Cory…the Chief Agronomist for Triple G, Checking the 60 foot 1890 center frame, seed distribution tower at startup. Cory Weatherred is seeding Sudan and Hybrid Sorghum, June, 18, 2015. This is one day following the banding treatment with the Exactrix Mustang Tool Bar and Triple G Track Cart.
No-tillage farming allows a fast turn-around and the pivot will be growing the second crop in about 4 days with seedling emergence. The second crop is coming back very fast after the June 12, 15 Triticale first crop harvest.
Fast and uniform emergence is required to utilize all the moisture and the light. The seedbed must be just right. Mustang P-51C openers promote an ideal seedbed as noted.
The Exactrix TAPPS bands on 15 inch centers at 6 inch depth does not damage the germination due to the uniform high pressure application of NH3, APP/ATS to make TAPPS crystals.
Old TAPPS bands from the previous crops provide extra boost in No-till with Rotational Band Loading. Crop production gets better and better with No-till as the old bands provide additional non-mobile nutrients.
Low cost nutrient application results at about half of normal nutrients required by other types of approaches.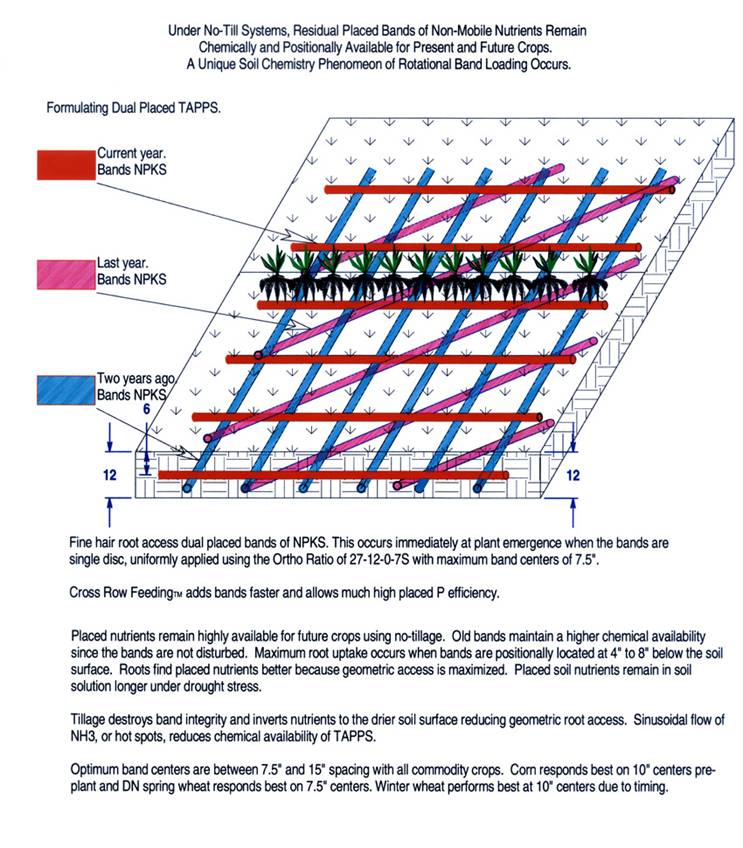 27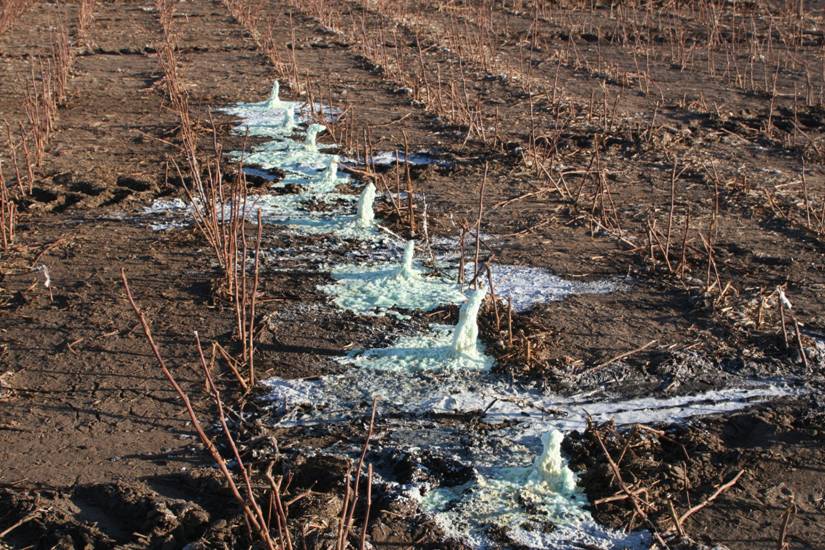 28
TAPPS Bands in an Acid/Base reaction.
KTS can be added on sandy soils or can be used to achieve high yields based on tissue samples.
The Deere 1890 at 60 feet and 10 inch seed row spacing is seeding the pivot in about 2.5 hours with stops to fill. An 8 pound per acre seed rate of Sorghum and Sudan is seeded at 1.5 inch soil depth.
The Deere 1890 at 60 feet and 10 inch seed row spacing is seeding the pivot in about 2.5 hours with stops to fill. An 8 pound per acre seed rate of Sorghum and Sudan is seeded at 1.5 inch soil depth.
The Deere RTK guidance system allowed the seed rows to be split to hold the new seed rows between the old seed rows using RTK towers at about 7 miles to 10 miles south of Deerfield, KS and the Arkansas dry river.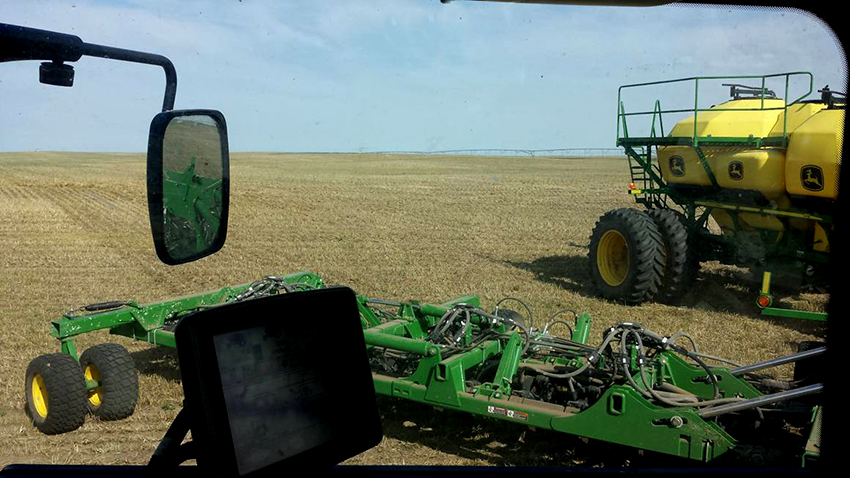 29
Triple G Partners at Deerfield, KS can expect a powerful productivity punch and improved net margins using
Exactrix Technology and their management skills. A very impressive operation.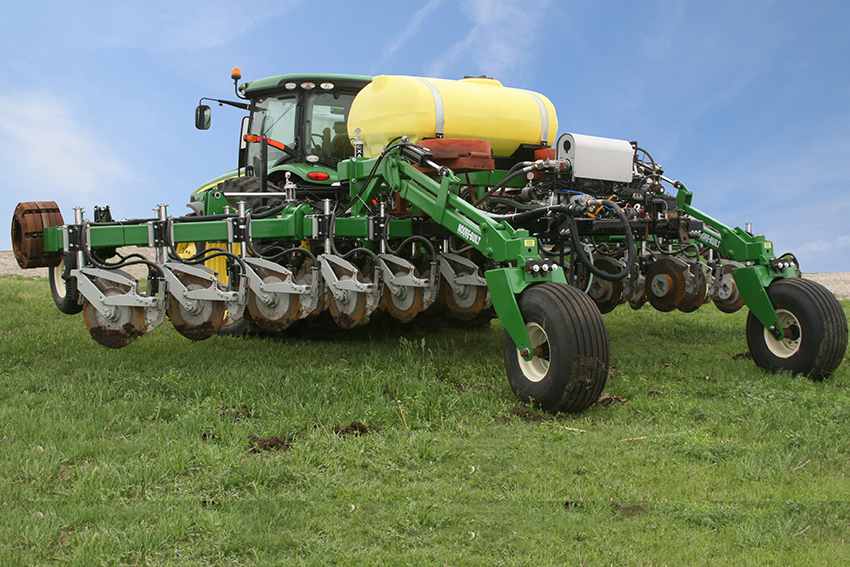 30
Mustang Tool Bars are most popular in 30, 40 and 45 foot widths. Two point lift assist in a 7 x 7 frame is available as 3015 and 4015 width and bands.
The Mustang 30 foot machines cover 30 acres per hour at 8.15 mph. The machines are rated to 10 mph. Horsepower and NH3 tank capacity may be limiting.
---
| | |
| --- | --- |
| 2KM, Series 3, Weigh Master F Series, Sparging Reflow Blender | 2KC, Series Weigh Master, R Series. |
| | |
| 31 | 32 |
33

34
2KM Weigh Master, Going thru certified rebuild

.

After 7 years of performance and 1 million gallons

of liquid flow at Deerfield, KS. Ready for another

7 years of service at Triple G Partners. Cost of rebuild $7,500.
2KC, Series 3, Triple G, Rebuild Feb. 2020 after metering 2.5 million gallons of NH3 at 1% CV.

Over 7 years and 85,000 acres of irrigated, dryland and double crop irrigated, triticale, wheat corn sorghum Sudan, winter canola, .
Cost of rebuild with new 1 year guarantee, $7,500. Operating cost about 88 cents per acre.
35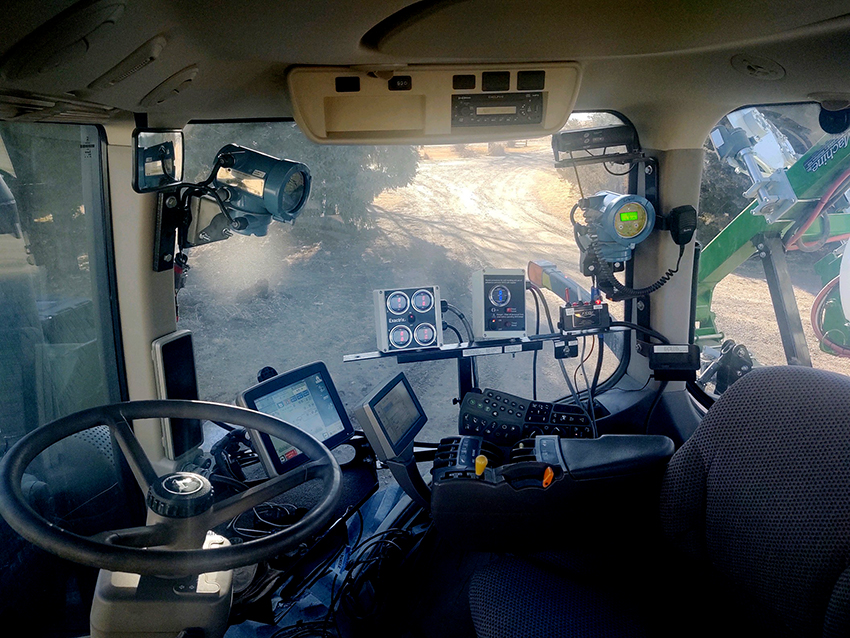 36
A Deere cab Install with Mass Meter Transmitters mounted in each corner.
Video of Inside Cab Instruments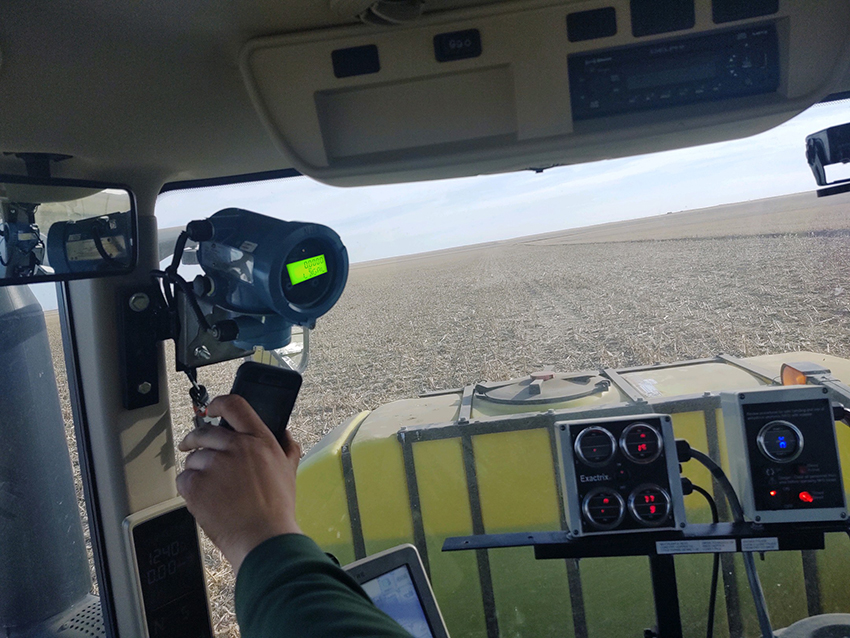 37
In 2020 the mass flow transmitters have been moved to the cab.
A valuable feature in changing fields.
A valuable feature in troubleshooting.
A valuable feature in confirming blends from the fertilizer dealer.
Very reliable with no hitch point couplers.
Gold flash Deutsch connections located in the cab environment as shown.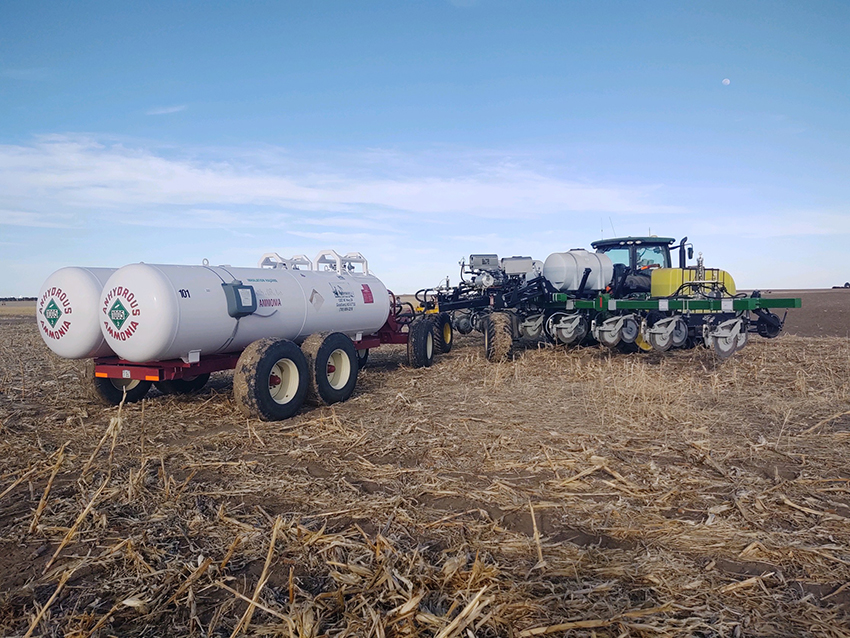 38
No-tillage application of nutrients prevails over strip tillage high horsepower applications at Goodland, KS.
After years of testing with two Exactrix tool bars. Mustang 3015 and Orthman 1 Tripper, the 12 row Orthman tool bar is parked in a nice machinery shed.

A 45 foot Mustang Tool Bar on 30 inch centers is rated at 8.2 mph at 130 lbs. N as NH3 in irrigated production. In dryland corn production at 60 to 80 lbs. N as NH3. The farm size is 6,000 to 7,000 acre range. 10% of the acres have a soybean rotation.

Phosphate use is greatly reduced and Sulfur use is increased. Sulfate of Zinc or Tra-Fix Zn is used at Goodland, KS to improve root systems and stabilize N. Tra-Fix Zn is a recommended Zinc source for Exactrix systems since it has RGS-Asset technology from Helena.

The 45 foot, 3 section, Mustang Tool Bar matches an 18 row planter on 30 inch. The fuel consumption is .38 gallons per acre at 8 inch band depths at 8.2 mph.

Strip Till has one use. Poor soil structure such as rutting from big harvesters. Rotational Band Loading becomes powerful very fast on 15 inch Mustang Band Centers. The discovery drives down nutrient costs to lowest levels in rotations of wheat and corn on dryland acres.

The Rotational Band Loading feature of No-till on 7,000 dryland acres at Deerfield KS points to the highest returns in dryland production using No-till. The 15 inch band center, 61.25 foot Mustang Tool bar is rated at 14,000 acres plus 2,000 acres of double crop. No legumes are in rotation.
Training Videos are available at www.exactrix.com/EOYT.htm

Mustard and Fumigation at WSU, U of I subject web page at www.exactrix.com/FM.htm

TAPPS and TAPPKTS at www.exactrix.com/TF.htm

For a good overview of banding deeper go to Center Pivot Corn Production

Need more historical reference of Exactrix Global Systems. Go to www.exactrix.com/EWAC.htm

Banding Deeper in No-till without tillage with Rotational Band Loading. www.exactrix.com/mustang.htm

Need more information about STEEP test plots and how Exactrix performs go www.exactrix.com/mcclure.htm

How TAPPS and TAPPKTS Changed a Kansas Farm. An KSU Ag Economist gives a good review. www.exactrix.com/Ben.htm
Your Great Plains Reporter. <![if !supportLineBreakNewLine]>

<![endif]><![if !supportLineBreakNewLine]>
<![endif]> Guy J Swanson