Return To Main Page
See all our previous broadcasts
NH3 at 1% with GPS Binary Banding On The Great Plains,
NH3 as NH4 is at 99% crop available with Exactrix® Binary Banding.
Improving Corn Yields and flexibility, and driving nutrient efficiency
beyond any previous efficiency values.
Exactrix® produces top yields with the safest, most advanced pressure increasing direct injection NH3 system.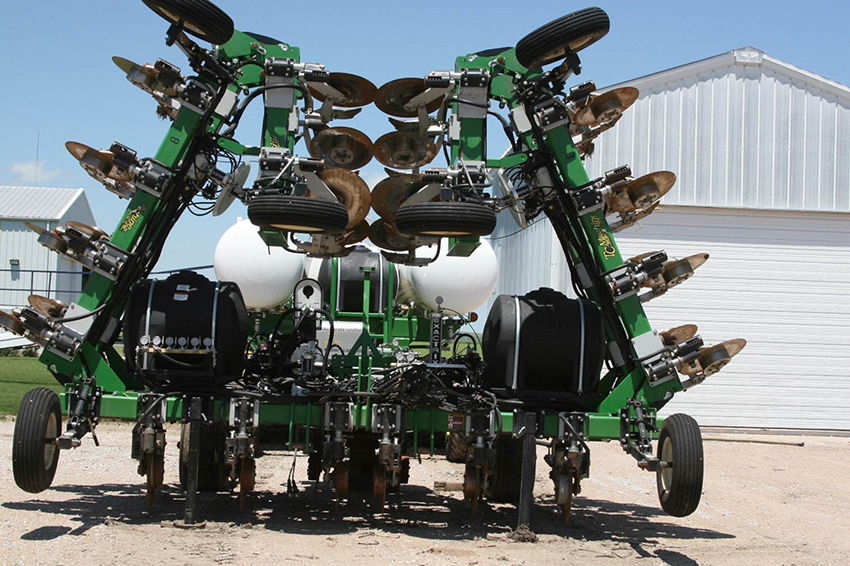 1
Geometrics is the next chapter in corn yields?
It is Binary Banding….The term is Binary Banding of TAPPKTS with micros.
It is also applicable to soybeans on sandy soils or depleted soils of the High Plains that can raise soybean crop performance due to a metals deficiency.
It is true, corn yields can be increased in irrigated and dryland production as compared to askew or 5 degrees angle applications of nutrients of TAPPS or the even really old fashioned broadcast approach. Seed Row Fertilizer is not required with Binary Banding or is seldom recommended leaving room for mycorrhizae, inoculant, and SRS.
A big jump in yield at a minimum of 8% on high quality soils and up to 25% in low CEC, or depleted soils by targeting corn rows to TAPPKTS bands at 7 to 8 inch depths.
A review of the technique is included.
TAPPKTS is Tri-Ammonium Poly Phosphate Sulfate with a metals micro package of at least zinc, manganese, iron and copper.
Exactrix owners have been preplant banding directly under 20 inch corn rows for about 5 years with no adjoining Binary Band.
In fact 30 inch row corn is also a great way to raise increased yields in dryland and irrigated but bands cannot go directly under 30 inch rows.
In fact for Binary Banding to truly perform Exactrix is certain the top economic yield in Corn is between 20 to 24 inch row spacing with Binary Banding of 10 inch, 11 inch or 12 inch.
The Binary Banding is arranged as follows.
Corn Rows at 30 inch is 7.5/22.5,

Corn Rows at 24 inch is 6/18,

Corn Rows at 22 inch is 5.5/16.5

Corn Rows at 20 inch is 5/15
Typically the machine design is made in increments of two rows.
Machine Planter System Tool Bar width….30 inch spacing is 30, 35, 40 feet, 45 feet, 50 feet or 60 feet width of tool bars.
Machine Planter System Tool Bar width….24 inch spacing is 30, 34, 38, 40, 44, 48, 52, or 60 feet
Binary Banding is implemented for corn rows that need two diluted TAPPKTS bands feeding one corn row. The second T band kicks in at V-5 to V-6.
In No-tillage dryland areas of the High Plains as well as irrigated corn the average corn yields jump when bands are placed directly under the corn row without tillage.
This technique also allows KTS, and Metals to be accessed right a emergence so the crop sees only balanced nutrients.
Expansionary, Rotational Powerful…..the new row crops can be raised. Previous and old fashioned fertilizer practices must be dropped to expand the Corn and Soybean acres.
A highly valuable rotation has evolved displacing winter wheat production on the High Plains and allowing much higher yielding hybrid technology crops to be raised.
Corn and Soybean can now offer greater returns on soils of high pH and lower productivity.
Millions of acres of low production level wheat land can be planted to corn and soybean with leveraged fertility.
| | |
| --- | --- |
| John Skinner | |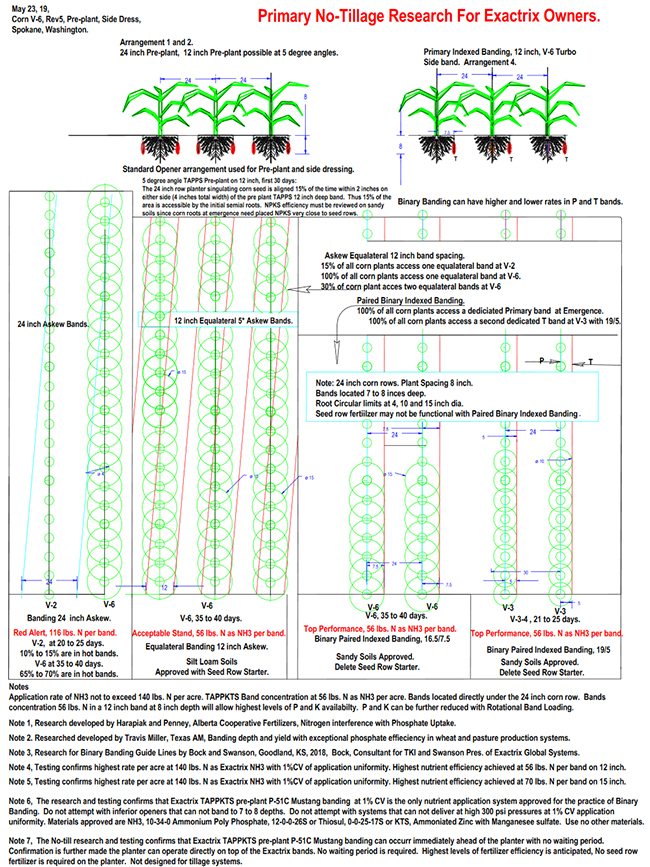 2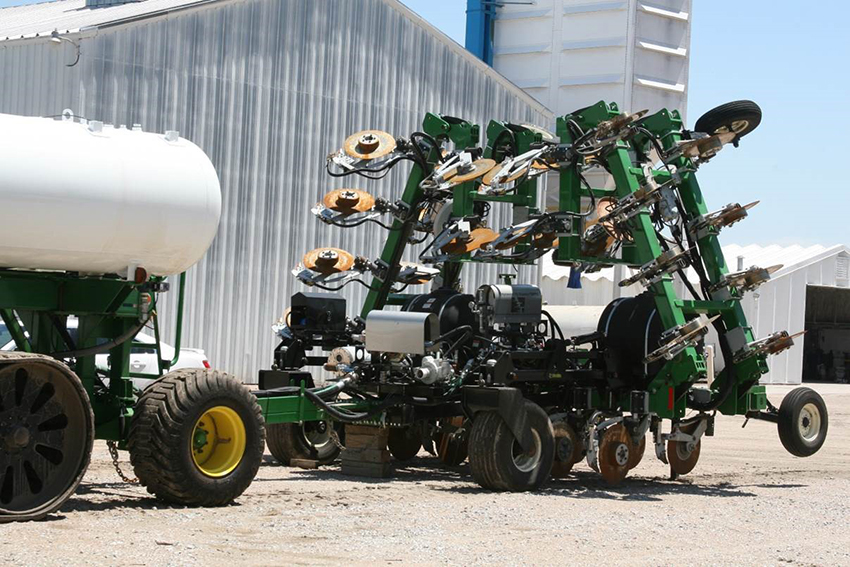 3
The rate,120 to 140 lbs. N as NH3. Variable Rate Applied with 5 to 7 gallons 10-34-0 and 3 to 7 gallons KTS, 1 qt. AZn, .25 lbs. MN.
The total nutrient dollars. $52.00 to $64.00 per acre. Binary Banding typically saves another $20 per acre since seed row starter is not recommended.
The combination of Variable Rate at 1%CV application, high quality irrigation, and Mustang TAPPKTS plus micros banded 7 to 8 depths results in top yields at lowest cost.
The western Corn producers are planning on yields over 300 bushels per acres in irrigated production.
The center pivot corners and associated dryland acres can expect 125% higher yields with net returns of an additional $60 to $80 per acre.
On the Great Plains TAPPKTS and TAPPS has produced outstanding results on more difficult soils at elevations of 1,500 to 5200 feet.
A close margin scenario is ideal for Exactrix and for producers that want to be profitable with low priced corn.
You will be glad to hear that producers have much greater net returns of $150 more per acre using a little less nutrient in a balance and getting more..
The entire machine investment is often paid off in the first year.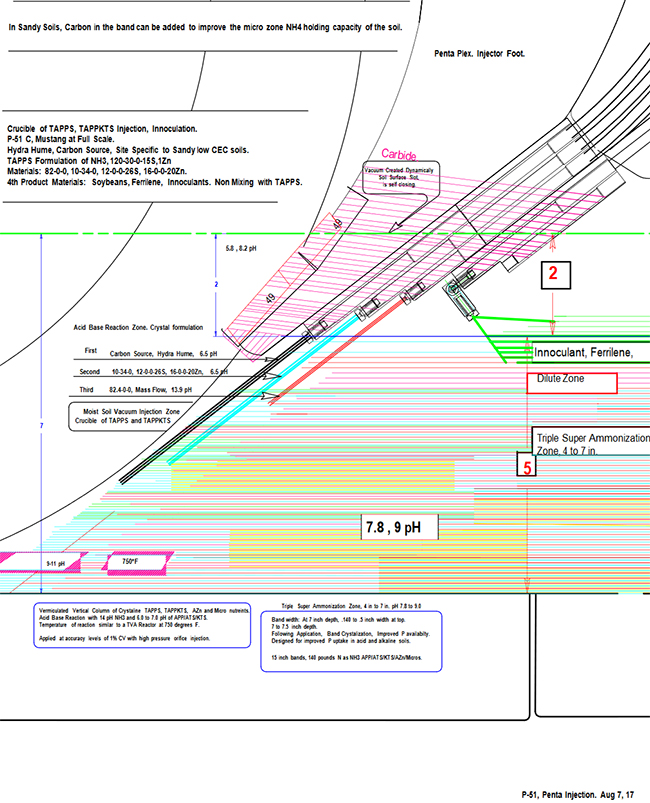 4
5


48 second video

6


55 second video

7


47 second video

Replaceable Chrome Bit, Six Shooter


48 second video

Vacuum Formulation of TAPPKTS is made below the ground line starting at 2 to 3 inches and mixing to a 7 to 8 inch depth in vertical band.

Mustang toolbar side view, 5 section.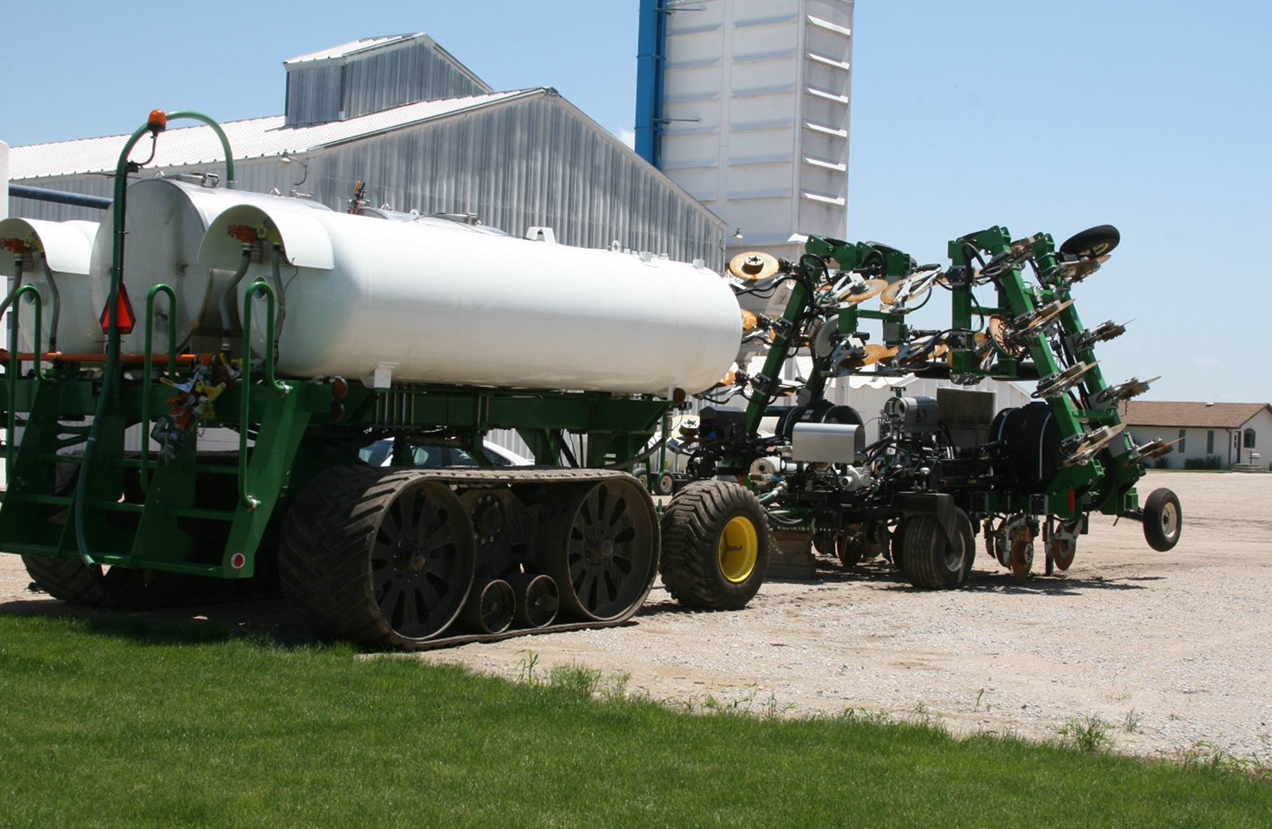 8
Capacities at 2,930 gallons of NH3, 1,212 gallons APP Mix with ATS and KTS metal micro nutrients in the stainless tanks.
Third product tanks have capacities for up to 600 gallons of KTS, DCD and Micros.
A fourth tank system is used for 125 gallons of water
Exactrix engines supplying to 3 sections are:
NH3, 2KC, Weigh Master, Series 3.
APP/KTS/ATS, 2KM Weigh Master Blender, Series 3.
Blending Products, Micros, Ferrilene®, DCD, KTS. 2KR Blender.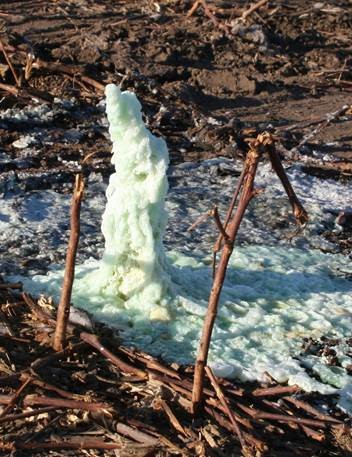 9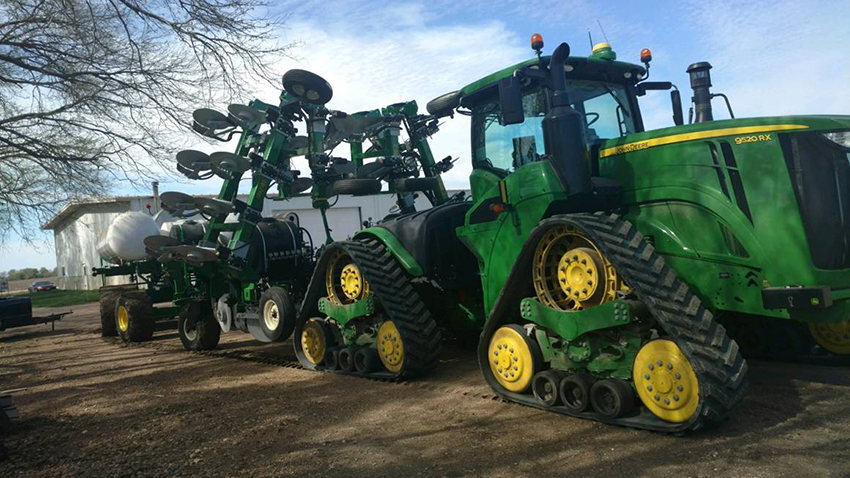 10
Tri-Ammonium Poly Phosphate Sulfate with Zn, Mn. TAPPS-Zn ,Mn. - Binary Banding 22.5/7.5, 5 section, 4515 Exactrix Mustang Positive Down pressure TC Tool Bar and the Yielder 2900 Steering Track Cart goes to work in No-Tillage conditions. Difficult and wet conditions prove that tracks really work in No-till.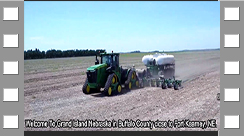 https://www.youtube.com/watch?v=Wo98MxRiaGo

This is a drone view, by B and B Video between Grand Island/Fort Kearney, NE…This is about 3 minutes…Exactrix®
The Exactrix® connection with the Deere® 9520 Row Crop tractor is RTK guided with two GPS beacons, Qty. 1 for the Tractor and Qty. 1 for the Track Carrier which assures no drift of the AB line using positive down pressure of the 5 section, 7 x 7 tool bar.
The 7 x 7 tool bar has 36, P-51C Mustang Openers with Six Shooter Injection and replaceable chrome bits. The openers have 3/8 x 25 inch Yielder Manganese elliptical double edge blades that are banding at the 8 inch depth. Deeper is better with Binary Banding.
The nutrients are TAPPKTS plus micros in vermiculated bands that vary no more than 1% CV. This is accomplished by injecting at pressures up to 350 psi in liquid streaming flows. Variable rate site specific applications are being made.
At the Video…..You can observe the tool bar raising in the corners at the field landing.
The Exactrix Global Systems NH3 system is 2KC Series 3 with Mass Flow at pressures to 350 psi. The Yielder® Track Carrier has 2,930 plus gallons of NH3 with auto shutdown, EC, 2 inch bottom outlet tank valves.
The 2KM Blending 2KP liquid fertilizer system is also Mass Flow and can provide up to, 1,200 gallons Ammonium Poly Phosphate and Thio-Sul®, 500 gallons of Potassium Thio-sulfate or KTS® per fill.
The liquid tanks are also auto shut down.
Also included is 125 gallons water for cleanup, safety, and not for drinking.
The Yielder® 2900 Track Carrier has a front reach steering axle connected to a ball and socket on the frame. The front axle Super Float Tires has between 5,500 lbs to 10,500 lbs of load on the front steer axle and the tires are about 8 to 15 psi of surface pressure. The Front steer axle is therefore not GPS controlled.
The GPS controlled Track Carrier steering tracks are useable on other machines such as Grain Carts. The high speed tracks are tighten with hydraulic cylinders and seldom need adjustment.
The 36 inch wide Steering Tracks are activated by two four inch hydraulic cylinders mounted to the ball and socket 12 x 12 axle. The Steering of the Track Carrier is calculated by Deere Controller and utilizes second beacon mounted on the back of the tool bar to find it's spot. The spot is controlled by the Yielder Track Cart and its 55,000 lbs of persuasion. The Tractor weighs in at about 52,000 with the tool bar not included.
The Track Carrier has 8 psi of surface contact pressure when loaded at 52,000 lbs. to 55,000 lbs. max.
The Yielder® 2900 Track Carrier operates down to 4 psi at lightweight or close to empty. It weighs depending on configuration 26,000 lbs. to 28,000 lbs. empty.
A braking system is also available that meets European Standards.
The 2 inch ported filling station is located to back of the Track Carrier. The system is designed to load in 15 to 20 minutes using liquid delivery NH3 Trucks and Liquid Fertilizer Trailers. Typically the NH3 Truck will load at 250 gallons per minute with a 4 inch Corken Truck pump consuming about 25 horsepower.
The DOT approved NH3 Fertilizer Delivery truck and liquid trailer will need to be back to fill in less than 2 to 2.5 hours as the machine will cover a lot of ground at 9.5 mph.
The formula for application acres is .202 x 10 mph x .45 machine width. That .909 acres per minute or 54 acres per hour.
The Deere 9520 quad has been running at 9.5 mph average and tractor has yet to be challenged.
Using a moderate efficiency rating the machine is covering 42 acres per hour at 80 per cent efficiency at 9.5 mph.
Reports are coming in that 50 acres per hour is pretty much standard. The 128 acre pivot can be applied in about 2.5 to 3 hours.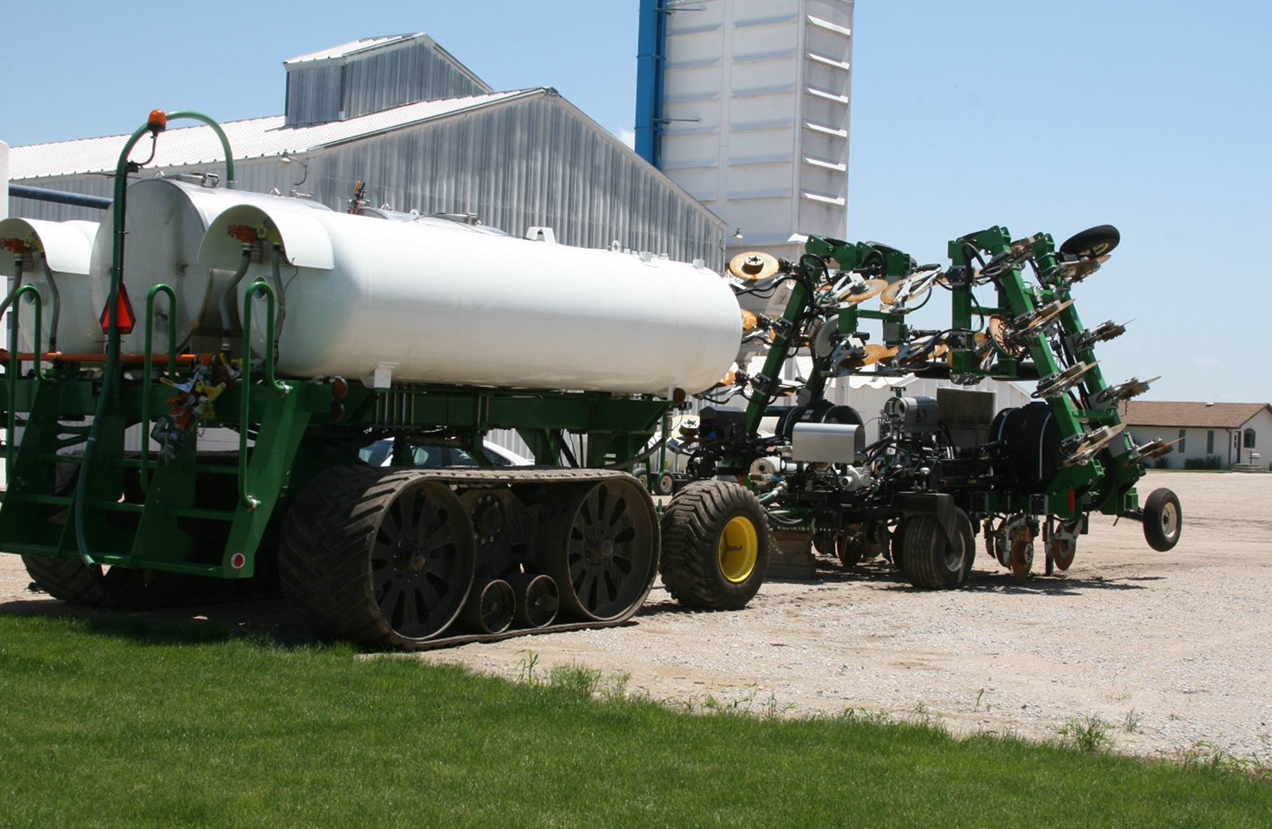 11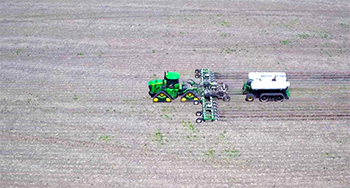 12
Click Here for Field Operation.
3 min video
A Mustang Tool Bar at 4515 in 5 section is set up in Binary banding across large fields acres in Nebraska.
Click here for full video https://vimeo.com/bandbvideo/review/337811713/33b051a4ab . Check out Binary Banding the massive but delicate process of applying nutrients at 1% CV in deep bands.
Mustang Exactrix Banding Nutrients at 9.5 mph in Binary Banding Mode of 22.5 x 7.5, splitting soybean and corn rows in No-till.
Allowing the 60 foot 24/30 corn planter to plant directly on top of the Exactrix TAPPKTS Band the same day by banding to 7 to 8 inch depths.

Here is why nutrients are combined with root pattern geometry to drive yields up another notch. Achieving record field wide averages using VRT application at 1% CV. The machine and the expert management lifts yield expectations to the 300 bushel per acre range in commercial corn production.
The TAPPKATS-Zn,Mn,Fe bands must be deep at 7 to 8 inches….directly under the row of Corn or Beans.
Nominal increases over askew Exactrix Mustang will average between 8 and 25% above previous yield levels in the 270 bushel to 290 bushel per acre range for commercial corn. Micro nutrients and efficient utilization of KTS is possible with a third product 2KR Blender with TAPPKTS bands directly under and along-side each corn row.
Power Packing of Seed is a well-established practice utilized in Washington State by the Crop Improvement Association for raising high quality seed on nutrient packed potato soils.
http://exactrix.com/Broadcast_06_24_2019.html
---
What Beats Corn under pivots in Kansas conditions?
Cow Calf Pairs on Hybridized Coastal Bermuda Grass.
Incomes per pivot reach upwards of $ 2,000 per acre. Input costs are considered the lowest in the grass land production per ton produced.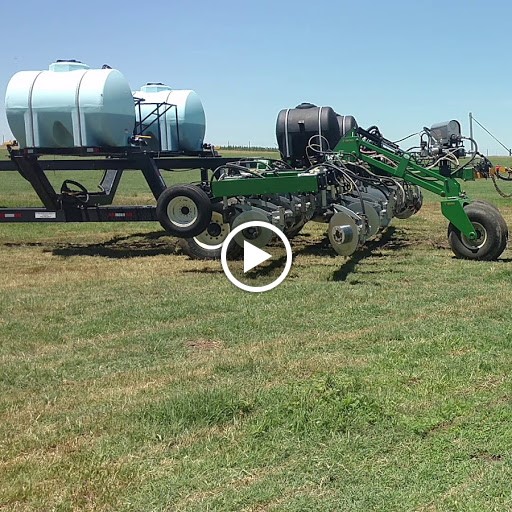 13
16 second video
A good video of the machine and the grass land pasture.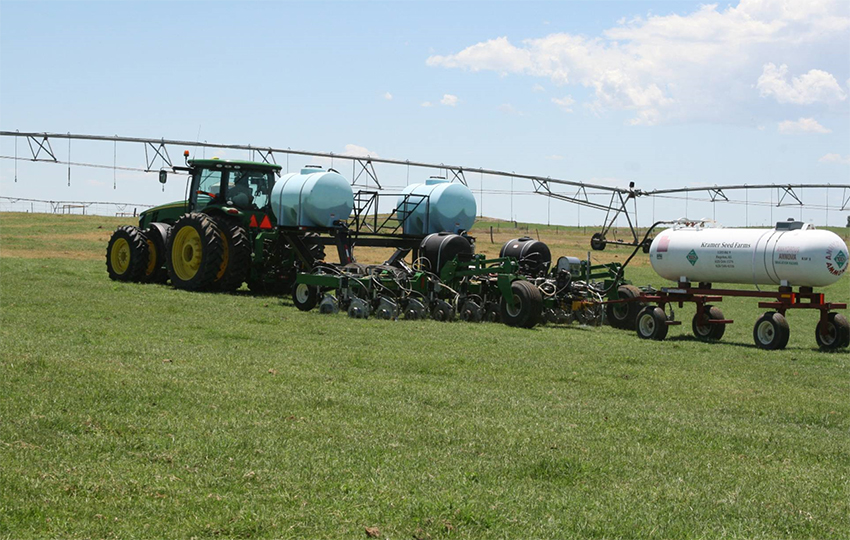 14
A Great Plains Money Maker., On sandy and low CEC soils.
Ben McClure Banding Exactrix TAPPKTS, 100 lbs. N as NH3 ,10 gallons 10-34-0 or APP and 10 gallons 0-0-25-17S or KTS.
The Mustangs deep band to a depth of 7 to 8 inches at Hugoton, June 20, 2019.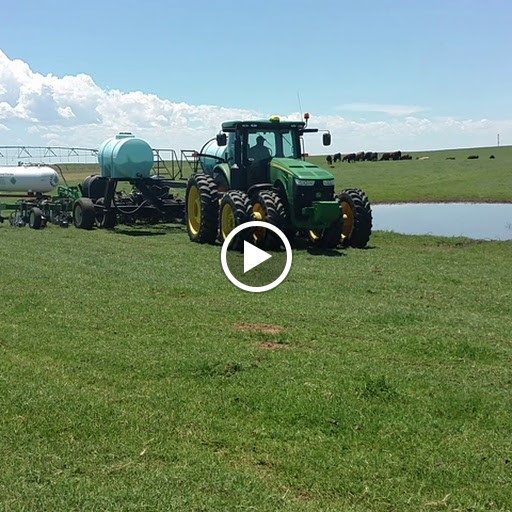 15
22 second video
Click on image to see video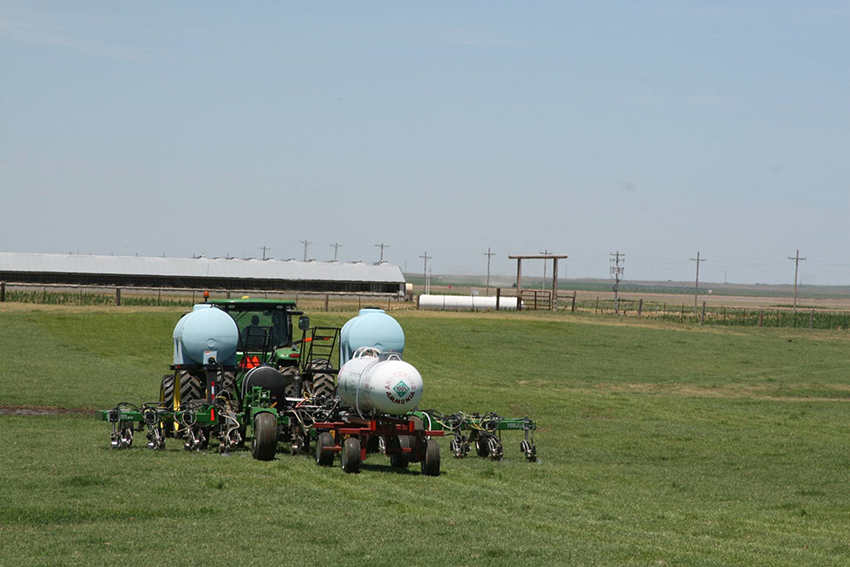 16
Cow and Calf Pairs. Calves gaining around 2.5 lbs. per day.
Grazing a grass land pasture with high protein content , 16.5% to 18% Hybrid Coastal Bermuda Grass.
High Protein and tonnage to 16 tons per acre…Hybrid Coastal Bermuda Grass is big consumer of N and Potassium.
Thus TAPPKTS is utilized at about 1/3 of top dressing costs. Three times the efficiency of top dressed fertilizer.
Producers need to apply 500 lbs. of KCL to compete with 100 lbs. of KTS.
Producers need to apply 1000 lbs. of N as Urea of to complete with 200 lbs. of NH3.
Producers need to apply 500 lbs. of 11-52-0 to complete with 100 lbs. of 10-34-0 banded.
Producers need to apply 5 times more dry sulfur to compete with the two types of sulfur in TAPPKTS.
Typically nutrients are applied 4 times in the growing season with top-dressed nutrients.
Chloride is not applied. TAPPKTS has been found to be superior economical over KCL fluid grade or dry over the top dressing.
Exactrix Mustang TAPPKTS Banding at 7 to 8 inches also prevents the crop from becoming root bound early and for sure surface nutrient stratification is avoided with Mustangs and TAPPKTS.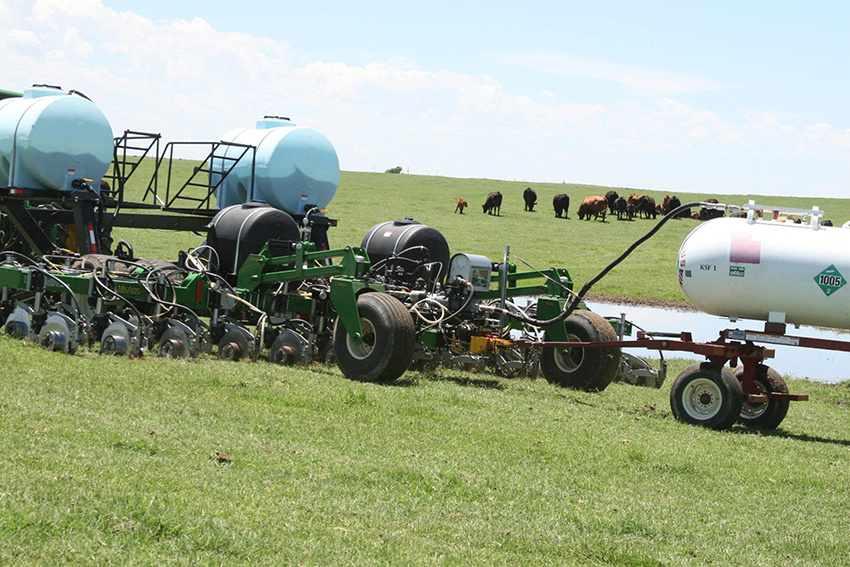 17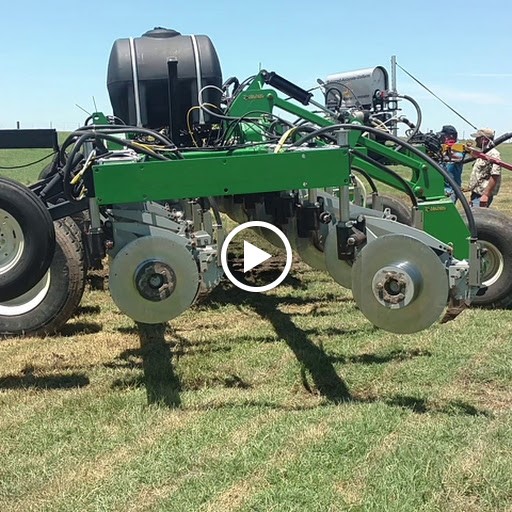 18
Click on image to see video
46 second video
Your Great Plains Reporter.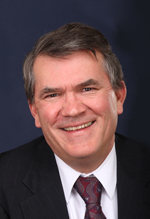 Guy J Swanson