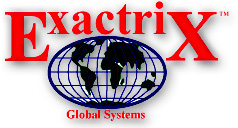 Patents Granted and Pending
Compare NH3 Manifolds
Chart 3
Test 2 @ 160 psi injection pressure, 115 psi tank pressure, 45 psi boost from transfer pump to injection pump, 63 degrees F NH3 temp. 83 revolutions of the fully stroked injection pump. Transfer pump turning 4 times faster than injection pump.
All components utilized in the test are standard, off the shelf production items of Exactrix Global Systems

Precision and selected orifices with less than 1% variance are available from Exactrix

Injection orifices should be checked every 500,000 gallons of NH3 applied

Testing reflects dual stage manifold operation in the secondary stage