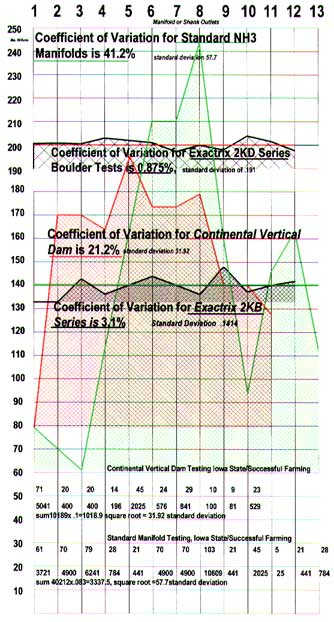 Testing results, Feb. 1 thru 4, 00, Boulder, Colorado, Micro Motion, Mid Tech, Exactrix Global Systems.
2KD Series, Micro Motion R-100, Midtech TASC 6100, Exactrix Tool Bar Manifold.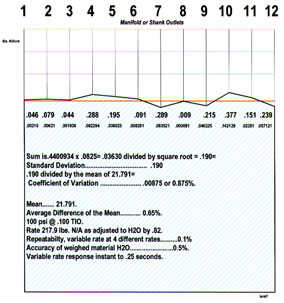 All components utilized in the test are standard, off the shelf production items of Exactrix Global Systems.
Precision and selected orifices with less than 1% port to port variance are avai;able from Exactrix.
Injection orifices should be checked every 500,00 gallons of NH3 applied.
Testing reflects dual stage manifold operation in the secondary stage.
TESTED DELIVERY SYSTEMS.
Coefficient of Variation
Exactrix 2KD..................0.875%
Exactrix 2KB..................3.1%
New Sprayer.....................6%
Airseeder Urea...........8 to 14%
Vert. Dam NH3 Man..21 to 25%
Standard NH3 Man....34 to 42%
PAMI rates any delivery system above 15% CV as unacceptable.
Testing information and criteria is also available from TVA and ASAE.
Test information can be presented as Average Difference of the Mean or Coefficient of Variation.
ASAE and PAMI have adapted CV. Iowa State/SF have adopted ADM